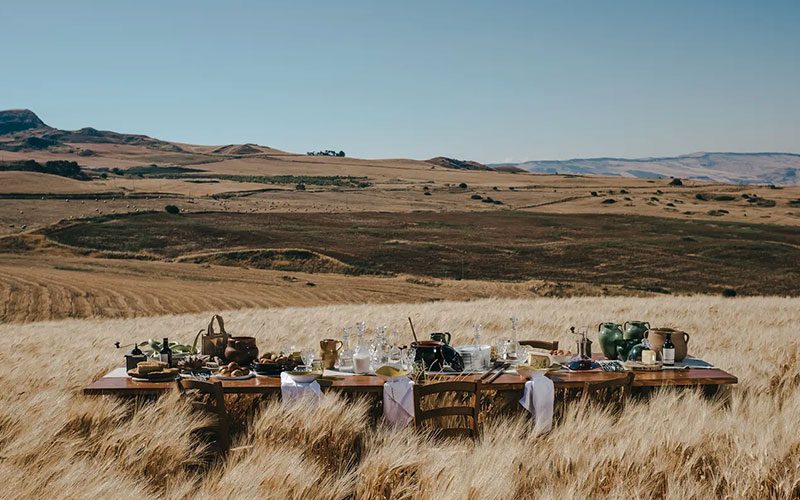 There are magical and unique places that very often we take for granted or do not know. Yet they are not far from our home, yet they are in our country. This magical place is called Susafa, in the unknown area in the center of Sicily, here is born a beautiful Masseria converted to hospitality. Hospitality according to Nature.
  And our General Manager, Maria Elena Fabbrini, fell in love with this land and chose it as the ideal location for our Tavolata in the wheat field. We then replicated the success of last year's event with two Tavolata experiences: one on the 10th of September with a lunch and the second on the 11th with an aperitif at sunset + dinner.
10th of September
The weather this year has totally worked in our favor with a beautiful sunny day. Fortunately, the location of Susafa is never extremely hot, but rather, being in a hilly area, there is always a light breeze that accompanies the days. And so it was also for our Tavolata, organized in an area with a panoramic view of the surrounding landscape: expanses of wheat fields and villages in the distance.
The experience began with the welcome to our customers and then proceeded to the location of the event with the Defender of Susafa.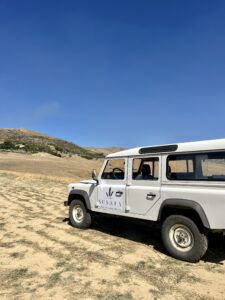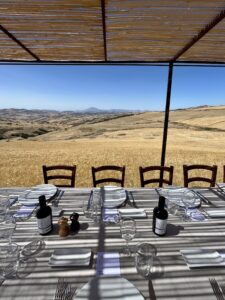 As in all our events, a beautiful understanding was immediately created between the guests. Since our table has a maximum of 12 people, it is therefore possible to socialize with all the diners and not just with your neighbors.
The menu:
Aperitif: Wheat salad cooked on raw tomato cream
Appetizer: "Froce" in tomato sauce
First course: Perciasacchi wheat paccheri with almond pesto, fried aubergines and salted ricotta
Second course: Cod in Perciasacchi whole wheat flour batter Mediterranean style on smoked aubergine cream
Dessert: Ravioli filled with ricotta and chocolate on pistachio cream and cherry granita
Still and sparkling water
WINES:
Regaleali Le Rose 2021 – Rosè – Igt Terre Siciliane (Sclafani Bagni)
100% Nerello Mascalese – 12.5% ​​Vol
Miano 2021 – Doc Sicilia (Valledolmo)
100% Catarratto – 12% Vol
Linen: Arno Studio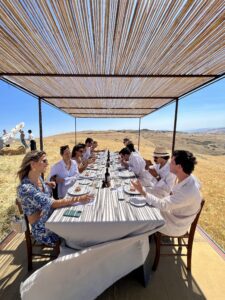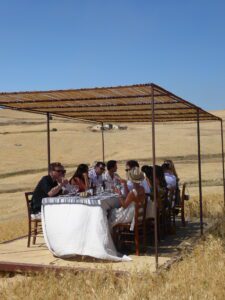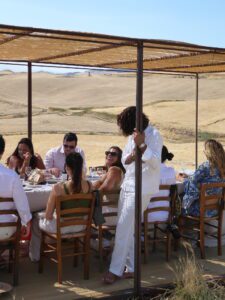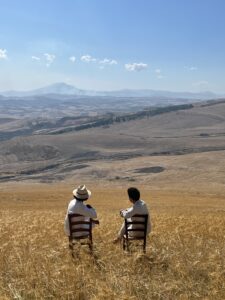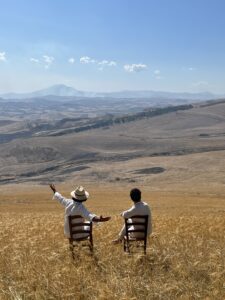 What can we say… positive vibes only!
The day ended with a relaxing afternoon and aperitif poolside.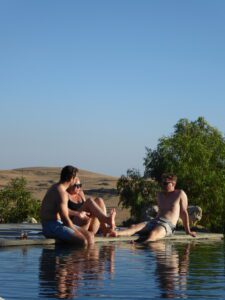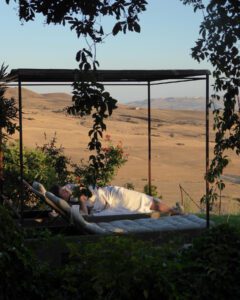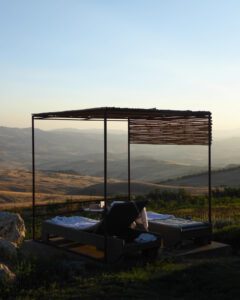 11th of September
The following day we moved the platform and composed a table on purpose so that it was lower with the possibility of eating seated on cushions. This is because in this way the guests had the opportunity to be level with the wheat and live a real "retreat". How did we do it? ..we contacted one of our Made in Italy partners who offer the highest quality linen, Once Milano, and we gave kimonos and dressing gowns to our guests. In this way they had the opportunity to get in touch with nature in total comfort. It was truly a sunset show of freedom.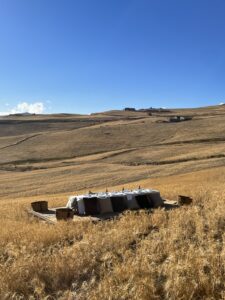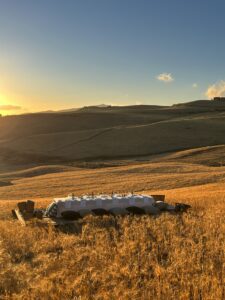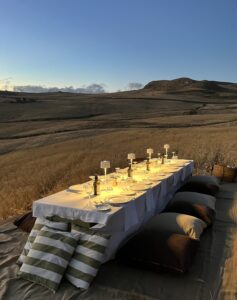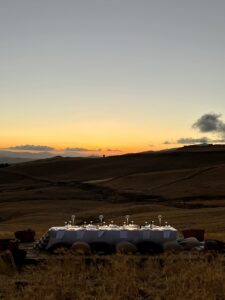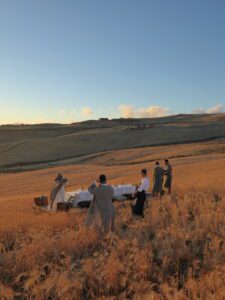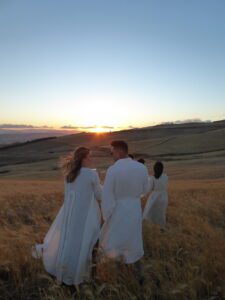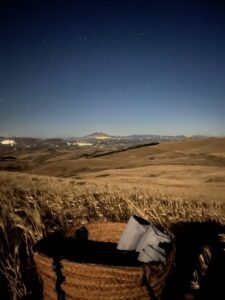 Menu: 
Aperitif: Vegetables in batter and milk croquette
Appetizer: Zucchini flowers in batter filled with fresh ricotta cheese on tomato cream
First: Busiate alla norma
Second course: Veal roll stuffed with rocket, cherry tomatoes and mozzarella
Dessert: Sicilian Tiramisu
* For the child: pasta with sauce, breaded cutlet and french fries.
Still and sparkling water
WINES:
Brut Castellucci Miano – doc Sicily (Valledolmo)
100% Catarratto Charmat Method – 12% Vol
Castellucci Miano Nero D'Avola 2020 – Doc Sicilia (Valledolmo)
100% Nero D'Avola – 13% Vol
Regaleali Bianco 2021 – Doc Sicily (Sclafani Bagni)
36% Grecanico, 34% Catarratto, 20% Inzolia, 10% Chardonnay – 12% Vol
To crown the end of a beautiful evening, the full moon that was born from the hill behind us .. and lit up the whole valley at 11 in the evening. With specials from all over the world, and not just Italy, we witnessed an evening of absolute human and natural beauty.
To organize your private event & stay at Susafa in Tavolata style:
Click on:
Come Find Your Nest in Italy
12th of September –  2 pm