Tavolata + Stay in a Masseria in Sicily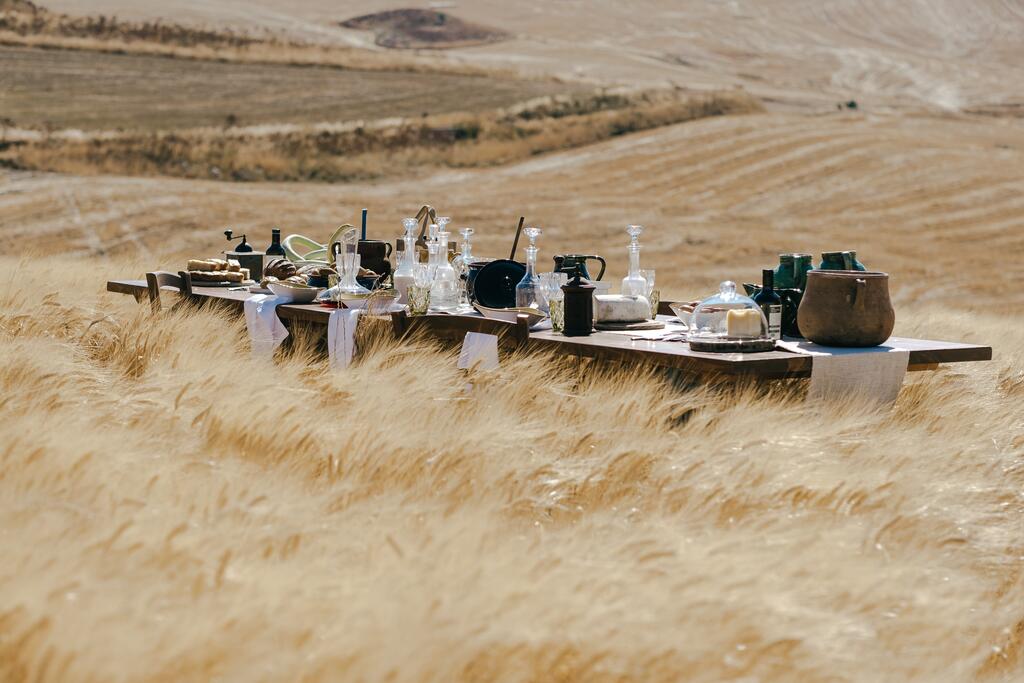 Tavolata in the Wheat Field
An old farmhouse now converted into spaces for hospitality.
Staying here means coming into contact with one of the many souls of Sicily, made up of inebriating colours and fragrances, centuries-old traditions and rites. And here, rite is celebrated all around nature: genuine spaces of quiet for relaxation, seasonal ingredients served every day at table, oven-fresh bread made with the olive oil of the estate, the blue of the swimming pool set in the green Mediterranean macchia, walks amid fields of grain and authentic sounds, those of nature.
Here, you will have the incredible opportunity to enjoy a Tavolata + Stay package.
Please find the options for you:
Stay of n. 2 nights in Classic Suite (3 rooms in total in the property);
On the day of arrival at the facility, dinner at the restaurant with one of their delicious tasting menus (water and a bottle of red or white wine of our choice included);
The next day, Tavolata in the wheat field (water and a bottle of red or white wine of our choice included);
Upon returning from the Tavolata, at sunset, an aperitif on the terrace with a view with one of their Signature cocktails and finger food.
Cost: € 810.00 p.p.
The same package could be offered with a stay in a Superior Double room (8 rooms in total within the property).
In this case, the cost would be € 710.00 p.p.
"Tavolata in the wheat field" can also be offered as a stand-alone experience. 

The menu proposed for the Tavolata could be focused entirely on the "wheat theme" and include, for example, courses such as a selection of bread, pasta, stuffed bread, wheat soup, wheat salad, pasta fritters, ricotta cassatelle or the property can elaborate a "mixed" menu, always using seasonal raw materials grown on the property and from local producers.
        Cost: € 130.00 p.p.