The Cinque Terre, very famous in Italy but also all over the world for their timeless charm and picturesque beauty, are five small seaside villages that rise sheer to the sea in the eastern Ligurian coastal area, between La Spezia and Genoa.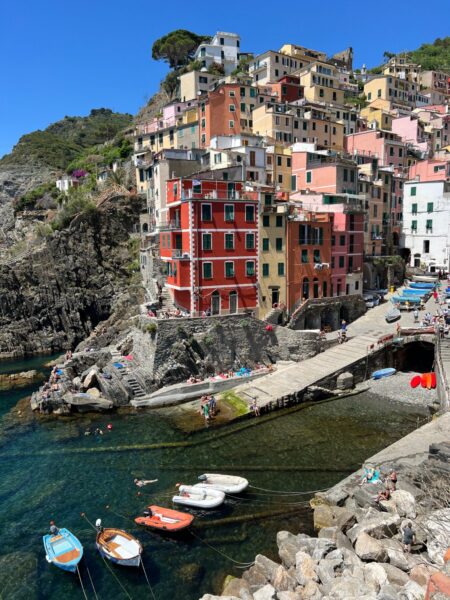 Arriving from Genoa we find in order Monterosso, Vernazza, Corniglia, Manarola and Riomaggiore; to reach and visit these small villages the best way is certainly by train, as each of them has a station located a few steps from the center and the regional train service guarantees runs every 30 minutes.
Furthermore, for those who wish, it is also possible to move between them through the local ferry service, which ensures spectacular views of the various villages seen frontly from the sea.
Since they are all small inhabited centers, you can easly visit more than one per day, also because they are just a few minutes away from each other, which is very favorable for those who do not have too many days to spend in this small Italian corner of paradise.
For walking lovers that wants to enjoy a breathtaking views, it is possible to visit the Cinque Terre along a path that is 12 kilometers long and it is called "Il sentiero Azzurro", which unites all the five villages, becoming one of the most fascinating and evocative walking routes in Liguria. Unfortunately, due to a recent landslide, the section between Manarola and Riomaggiore, also called "La via dell'amore" (about one kilometer long), will be closed for renovation works until 2024; however, it is still possible to take another different path by following the indications on the spot.
The Cinque Terre are among the most colorful and scenic villages in Italy with a crystal clear sea which it is impossible not to fall in love with, and they also offer a great variety of typical food products, such as basil pesto, chickpea farinata and salted anchovies from Monterosso; unmissable is the fresh fish of the day with which most of the dishes are prepared of, however, are also accompanied by many recipes with earth ingredients and many spices that are grown in this area of Liguria. Also noteworthy is the production of wines and the cultivation of lemons, called "gold of the Cinque Terre" with which the famous limoncino is prepared, a sweet liqueur also used as a digestive.
To visit this beautiful area of Liguria we chose to stay in our Ligurian "
Nest
" which is located in the area of Sarzana, slightly set back from the chaotic Cinque Terre area and surrounded by nature, but which is in any case about 30 minutes by train and less than an hour's drive from the small villages.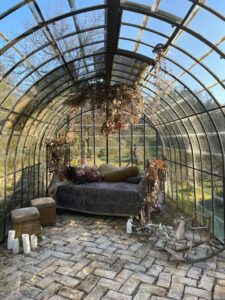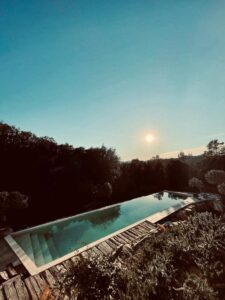 The
accommodation
is located inside a private Villa and has only two charming rooms, where you will notice an important attention put even into the smallest details and where you can fully appreciate and breathe the love that the very kind owner has put into this project.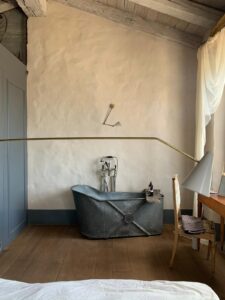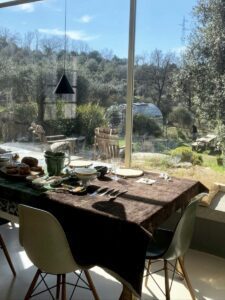 The villa has a beautiful infinity pool and a well-kept garden, where you can relax while enjoying the beauty of the surrounding unspoiled nature, even if you are just a few minutes away from the city center of Sarzana. Get ready to savor a fantastic Ligurian breakfast, full of focaccia and local sweets, all strictly fresh, which will be served to you in different enchanting places of the property, depending on the weather and the season.
You can find out more on our website
here
.
We start our tour from Riomaggiore, a picturesque village that overlooks the sea and from which you can admire the most beautiful sunsets, especially from the small and characteristic marina. Its name is said to derive from the Rivus Major river which once ran through the village. Colorful houses set among small streets, typical restaurants and a fairly spacious beach that can be reached on foot make it perfect for those who want to savor the real and authentic Ligurian life.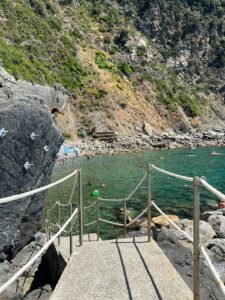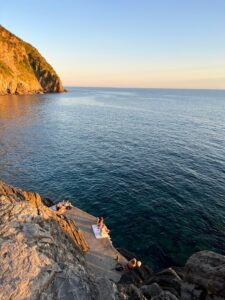 Then we move towards Manarola, which is really a few minutes away from Riomaggiore; walking through the main street full of typical shops, where a river once passed and then dried up, you arrive directly on the sea. We reach a very particular glimpse with small bars and restaurants that overlook the crystal clear blue waters that is always full of people who cannot resist the temptation to dive in, and we have done the same.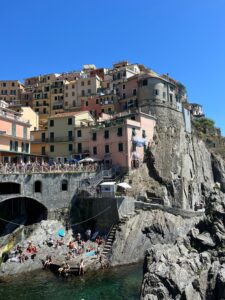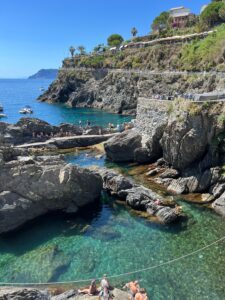 Moving slightly north we arrive to Corniglia, the only one not accessible from the sea as it is located on a steep promontory, which in fact requires a short uphill walk for those coming from the train station, which can be a bit tiring especially during the hottest hours. This village is particularly famous for its ancient wine production and also differs slightly from the other villages on its architecture, as the buildings are usually shorter and with less floors.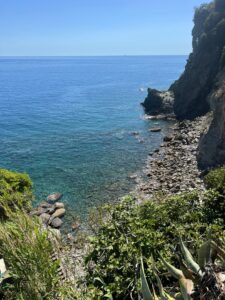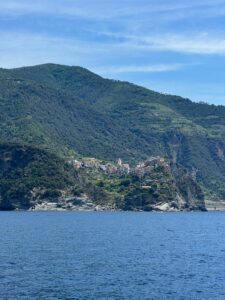 Continuing northwards, we find Vernazza, which is thought to date back to the early 1000s, the only village to have a bay that creates a natural harbor. Unlike the other villages, it gives the idea of being flatter, and in fact the main square is larger than the others and is full of many clubs and restaurants. At the bottom of the square we also find a small beach, always full of bathers, and a beautiful and characteristic church dated back to the 1300s, the church of Santa Margherita d'Antiochia, which faces the Belforte, ancient walls that are located under the castle at the entrance of the port.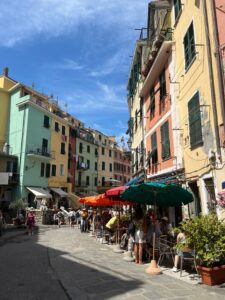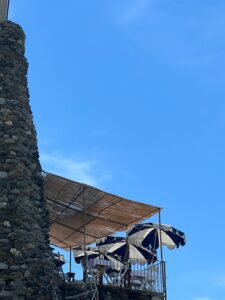 Lastly we find Monterosso, which probably takes its name from the color that the buildings take on during the sunset, as a woman from there said to us; this is the largest of the Cinque Terre villages, the only one with a sandy beach and the only one accessible by car. There are many testimonies of previous generations who lived here, with different historical references; Monterosso was also particularly loved by the famous writer Eugenio Montale, who used to spend his holidays here.
For an absolute excellent lunch we suggest you to go to "Cucina e storie di mare – Ittiturismo sp4488", a typical restaurant located above Corniglia, between the path to Vernazza and the provincial road to San Bernardino. You will be absolutely breathless as the restaurant enjoys a 180-degree panoramic view that sweeps between Manarola and Punta Mesco and here you will enjoy a 100% Ligurian culinary experience surrounded by olive trees overlooking the sea. Renowned among the inhabitants of the area, this restaurant is described by everyone as a magical place where the quality of the local products is unrivaled; its owner, a passionate fisherman, every morning dedicate itself to sea fishing and, based on what nature offers him, he defines the menu of the day. We are sure you will not be disappointed by this enchanting location and food!
Since our accommodation is located in a very strategic position that makes you able to discover the coasts of this beautiful area of Liguria, it is also worth for us visiting Portovenere, which is located about 40 minutes by car from Sarzana, or reachable by ferry from La Spezia.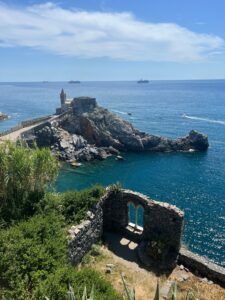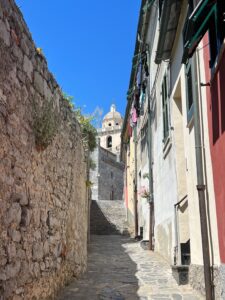 The village of Portovenere has been declared a World Heritage Site, obviously together with the ones of Cinque Terre; the surrounding areas have also been identified as a natural park and a marine protected area. The typical houses built in rows with the characteristic Ligurian colors, similar to the villages already explored previously, together with the beautiful church of San Pietro that is dated back to 1198 and built on the extreme tip, and the 12th century Castle, make the landscape to be like a postcard.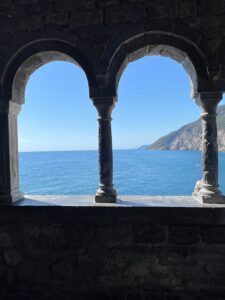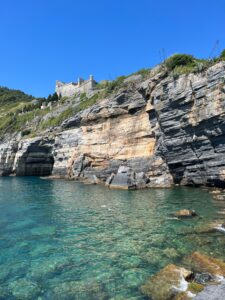 Furthermore, for sea lovers who do not want to give up to a dip in the blue waters, next to the church there is the Byron cave, a cove that takes its name from the famous poet, who used to bath right here.
Now it is only up to you to choose when and what to see in this beautiful area of Liguria, sure that it will be an incredible and very suggestive experience that will leave you with an indelible memory, just as it was for us.
Have a good trip everyone!
Words & Experience by Martina @evasiondecharme
For infos about Cinque Terre send us an email:
Come Find Your Nest in Italy