Tips from a Local
by Benedetta Canale @benny.canale
48 hours in Rome might sound like looking for a needle in a haystack, but this little guide aims to dodge the touristic fuss and concentrate on what really matters: good food. Let's be honest, life is too short to stumble on a forgettable meal so let's dive into it.
WHAT TO KNOW
Something to know when traveling to Rome is: book everything in advance. Walk-ins might work for the more touristic places but if you don't want to end up hungry and disappointed, I highly recommend you to book all of you your restaurants in advance (even for a simple aperitivo!).
WHERE TO STAY
Since we're going to hop from meal to meal almost non-stop, let's start with accommodation because you'll need a cozy oasis of peace to come back to full and tipsy.
My suggestions:
Chapter – Ghetto
Hotel De' Ricci – Campo De Fiori
G Rough – Piazza Navona Vuotopieno – Prati
DAY1
A good morning in Rome should always start with a Maritozzo. What is a Maritozzo? It's a sweet bun cut open in the middle and filled with the most delicious fresh whipped cream. Where can you find the best one? At Pasticceria Regoli, just next to Termini Train Station. From there the Contemporary Cluster is just a few steps away. Set in the astonishing frame of Palazzo Brancaccio, it is a multidisciplinary collective that includes an art gallery and Frabs Magazines shop. After a Maritozzo and a Cappuccino, a digestive stroll is much needed.
From there you can easily walk to Monti, the most stylish and vibrant neighborhood of the city centre.
At night it is one of the epicenters of nightlife for en plein air soirées, but during the day it will offer you stunning views (like the one in Via Panisperna towards the most photographed ivy in Rome and the Cathedral of Santa Maria Maggiore) and cool little shops like Pots and Lol. If you happen to be in monti at night I recommend Fafiuché for aperitivo, where you want to get the gianduia toast with salt and olive oil, Rocco for dinner and Drink Kong for a cocktail.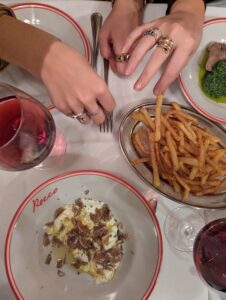 From Monti you can descend to Via dei Fori Imperiali where you'll have a glimpse of the ancient Foro, the heart of the public life of ancient Rome. From here you could access the most busy shopping streets (via del Corso, via dei Condotti ecc…) and of course Fontana Di Trevi and Piazza di Spagna but, if you already saw them all, I would head directly to the Ghetto.
Ghetto is the Jewish neighborhood of Rome where you'll be able to taste the world famous Carciofo alla Giudia among all the other Roman specialties. My suggestion are Al Pompiere for a traditional meal, and Beppe e i suoi Formaggi that, among many delicious things, offers cheeses made with milk from the owner's own cows and natural wines.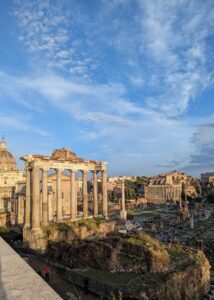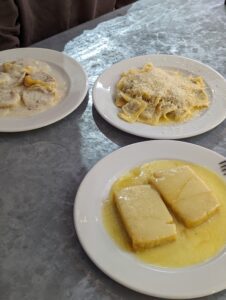 After lunch, a slice of the most famous cake in Rome is a must: torta ricotta e visciole from Pasticceria Boccione.
A Jewish pie filled with fresh ricotta and sour cherries slightly burnt on the outside, heaven on earth. Now time for an afternoon nap.
When you wake up you might need a coffee for an extra kick. If you are in the city centre, Caffè Sant'Eustachio is your goal. while if you are in Prati you have to try the chocolate espresso from Sciascia Caffè. At this point you could either keep on walking (if you are at Sant'Eustachio a quick free visit to the Pantheon is a smart idea) or visit a museum. From both areas, Museo Hendrik Christian Andersen is at a walking distance. This museum used to be the house/studio of the eponymous sculptor where now are displayed many of his majestic artworks. Believe me when I say you won't regret the visit.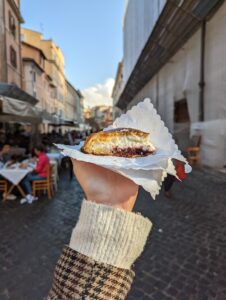 If you instead would like to keep walking I recommend heading to Trastevere. From the Ghetto area you'll just need to cross the Isola Tiberina, an island right in the middle of the Tiber that hosts a Hospital and one of the most famous traditional Roman restaurants, Sora Lella. As soon as you cross the Island you'll find yourself in Trastevere, one of the most characteristic neighborhoods of Rome. Before starting to wander aimlessly, I suggest to stop at Biscottificio Innocenti to grab some of their sweets made the old school way in a 14 meters oven. It's a pleasure both for the tongue and the eyes. A walk in Trastevere it's not same without a gelato, you can choose between a Roman institution, Bar San Calisto, for an old fashioned cone, or one of the best ice-creams in Rome, Otaleg. I'd say it's time for dinner, and I would like to take you to my favorite restaurant in Rome, Retrobottega. No, you won't find Carbonara but the experience goes way past that. I'd guess at this point you'd be exhausted, but if you were still up for a drink, the Jerry Thomas speakeasy could be a good spot.

DAY2
Yesterday you indulged in a Roman specialty so you will forgive me if I suggest you to have breakfast in a Swedish spot because it's my ever favorite place in Rome. Marigold it's my comfort zone, my nest, my safe space. They specialize in specialty coffee and have the most amazing sourdough and Swedish pastries. My favorites here are the morning bun and the rye bread gelato, don't feel shy to take both because I did and it was celestial. You could also come for brunch on sat-sun, or lunch, just note that they are closed Monday and Tuesday and they close every day at 3pm.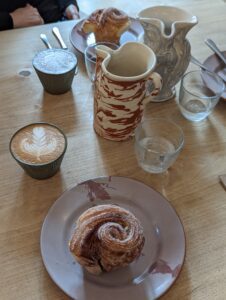 From Marigold walk towards Centrale Montemartini, a wonderful sculpture and mosaic museum set in an old thermoelectric plant. The contrast between the gentleness of ancient roman marble statues and the majesty of the industrial iron machineries it's just mesmerizing. From there you could take a walk towards Testaccio. Testaccio is the most Roman neighborhood in Rome. Everyone is a romanista (a fan of the Roma soccer team) and here are the most traditional trattorias.I suggest you to have lunch at Piatto Romano, not one of the historical trattorias like Perilli and Felice, but definitely worth it for the use of unusual foraged greens alongside all the Roman signature dishes. If you instead are more up for a casual lunch, you could either head to the spot where the famous Trapizzino was invented (if you don't know a Trapizzino is basically a cone of pizza filled with typical Roman recipes, I suggest the Pollo alla Cacciatora and why not, take a supplì as a starter) or to the Mercato di Testaccio. At the Mercato you'll have many options to choose from, I suggest Mordi e Vai and Da Corrado al Banco 18 for great wines and delicacies.
After lunch, grab a coffee at Giolitti a Testaccio, a real old school bar. Today since it's the last day you might feel like skipping the nap but of course I won't judge you if you would want it nevertheless. If you feel like, from Testaccio walk towards Campo De Fiori where you could also encounter some remaining stands from the morning market. You might pass by Lela, a lovely little shop with the most beautiful cookware and home accessories. Here is also the most famous bakery in Rome, Roscioli. Make sure to grab some pizza rossa to eat as you walk (they also have a restaurant called Roscioli Salumeria, which is a good spot for a carbonara and excellent wines).
While you eat your pizza, take a walk towards Via di Monserrato and feel like Audrey Hepburn looking at the windows of incredible design shops and art galleries. You just want to finish you pizza before getting in Chez Dede, the chicest concept store in Rome. They have their own firm of bags and accessories and also sell vintage furniture and Assouline books. This might take long. As an alternatives after a pick-up nap, you could go for an aperitivo to Circoletto, a recent- born cool spot for the best Italian tapas and natural wines in an underground young atmosphere. For dinner you'll have to take a taxi because this gem is totally worth it. Santo Palato is in the neighborhood of San Giovanni, the chef, Sara Cicolini bet everything on the the Roman tradition and decided to open her trattoria in 2017. She has met plenty of recognition and her signature dishes are her majesty the Carbonara, the frittatina with chicken rigaje and the maritozzo.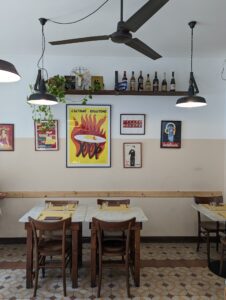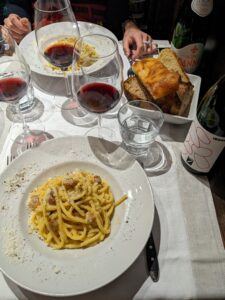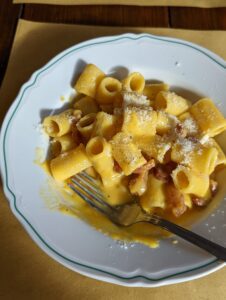 Pics & Words by: @benny.canale
Come Find Your Nest in Rome
For info and reservations please send us an email:
Click on: