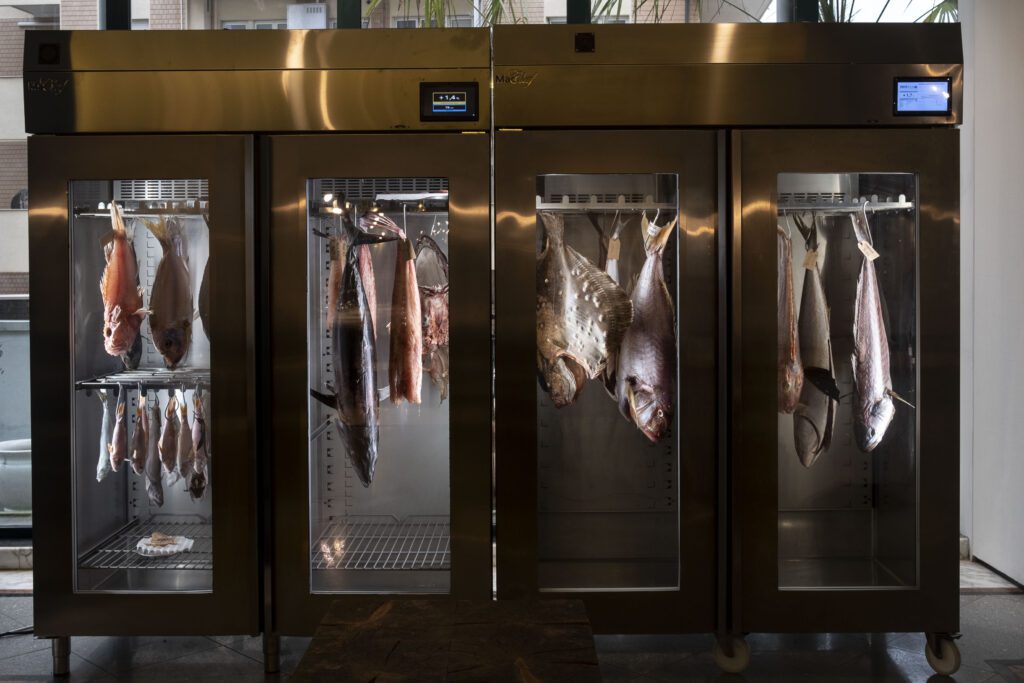 Da Lucio trattoria was born in November 2019 from an idea by Jacopo Ticchi the chef, together with his partners Enrico Gori and Roberto Magnani. The idea is to serve the best of our sea, with the awareness of the fish and the awareness of the new Millennium.
The name immediately aims to communicate the idea that characterises Da Lucio: the contrast between the historical and the contemporary. In fact, Lucio, although he recalls in our imagination a historic trattoria with a boss who gives 40 years successfully manages the restaurant, in this case is the son of Jacopo, the chef, who is four years old, a child who sees and acts with purity without being too influenced by common ideologies.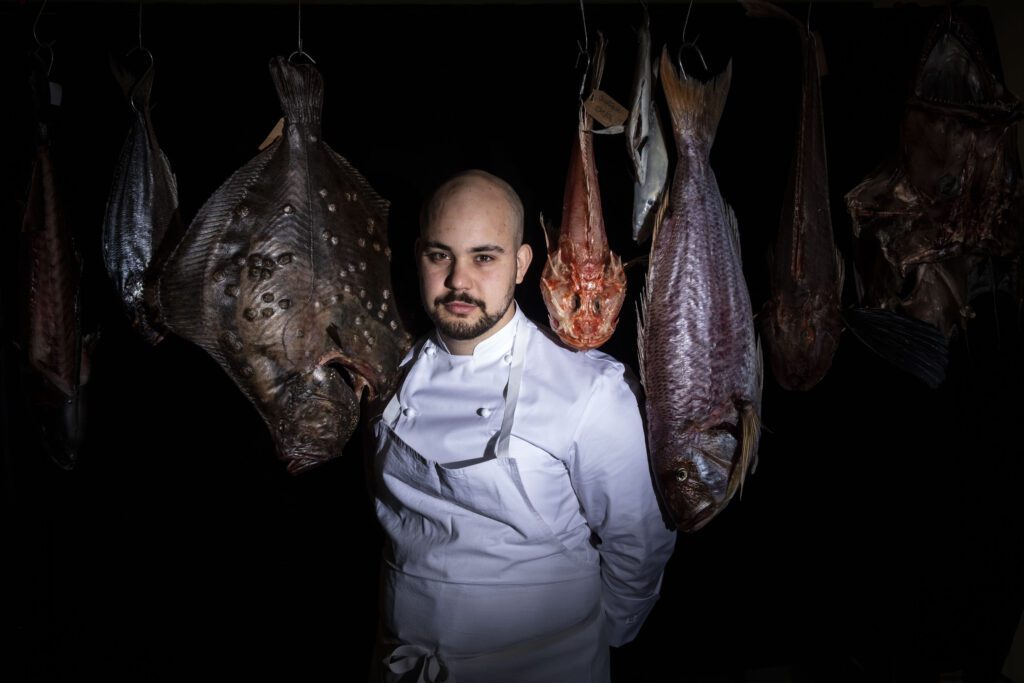 The daily goal is to make the most of the raw material: they inspire ourselves to what our parents or grandparents used to cook, appreciating their simplicity and direct tastes without giving up on putting everything in discussion in favour of a cuisine that is simple in spirit and current in thought.
The cuisine of Trattoria Da Lucio is distinguished by the use of only local fish almost exclusively from large size whose taste and texture are enhanced thanks to the dry aging technique – Dry
Aged.
This restaurant is a Trattoria, therefore the cuisine is at the service of taste, concreteness, truth and
zero waste. For them it is important to be able to enhance even the less noble parts of the product: the offal in fact they become one of the protagonists of their menu, their treasure.
Trattoria Da Lucio's menu is always in turmoil: we like to use seasonal, cooked ingredients mainly on the grill. Fire is a magical element, which gives the product an ancestral sign.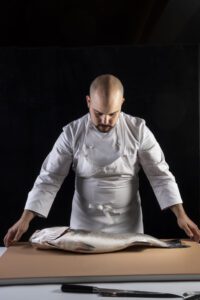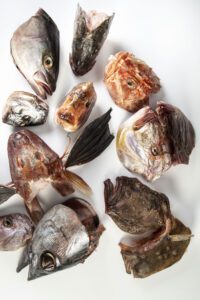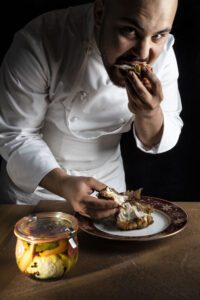 We had the opportunity to experience a lunch in this Trattoria and, by choosing the tasting menu, to discover the true essence of this cuisine.
The Menu:
welcome entrance
chocolate with fish liver filling and raspberry coulis
vermouth and soda: "PRIMO" vermouth made by Da Lucio in collaboration with the Delle Selve farm in Rimini served with a lightly flavoured soda with basil and mandarin.
ACT I
7 days aged mullet with smoked egg yolk and anchovy sauce
Monkfish aged 10 days with octopus water mayo and raw shrimp
amberjack aged 15 days with fresh sea bass eggs and sea lemons
raw mantis shrimp on toast with parsley dressing and almond curd
St. Peter's eggs in two consistencies
sea ​​bass liver pate with toasted hazelnuts on fried bread
radicchio with tuna bottarga made by us
Their version of Giardiniera with tuna katsuobushi
INTERVAL
Passatello al torcione in paganelli broth
ACT II
10 days aged mallet collar with grilled tomato sauce
fillet and belly of red snapper with brown background
onions cooked under ashes
broccoli with garlic and anchovies
monkfish liver wrapped in Romagna lard with brown stock and chard
mixed fish tripe stewed with tomato, bacon and parmesan
grilled beef marrow with mussels, cabbage and pecorino
THE FINAL
creamed spaghetti with emulsion of cuttlefish liver and grilled cuttlefish
Some of their renowned dishes: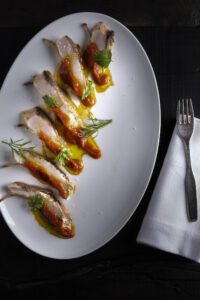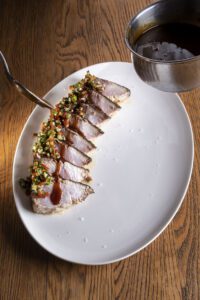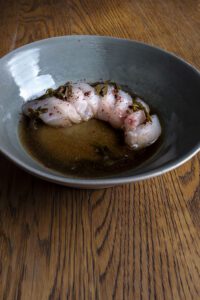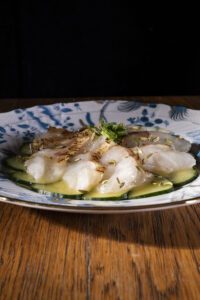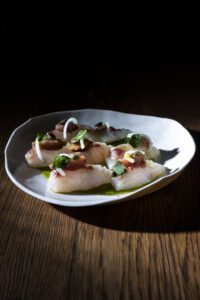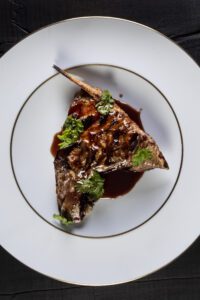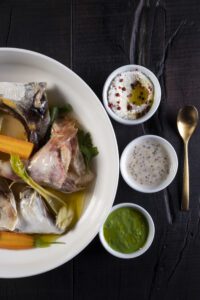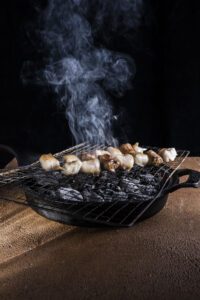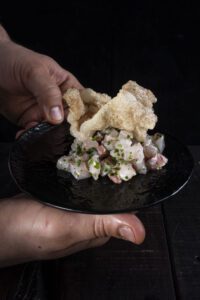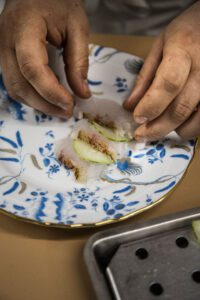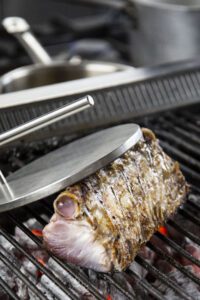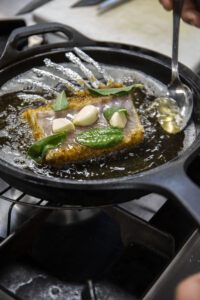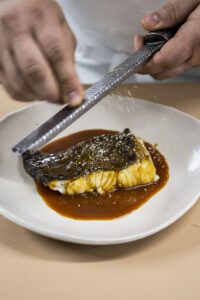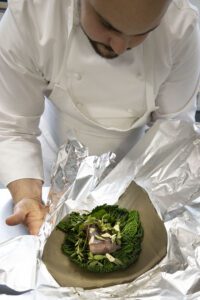 It was a really interesting experience, accompanied by a varied wine list and an attentive and kind staff, followed by the professional and enthusiastic room manager, Giulia Battistini.
We are sure that Da Lucio will talk a lot about himself, we recommend trying it if you plan to go to Rimini!
If you want to learn more about fish maturation and " Frollatura "
We are now used to hearing about meat maturation, especially beef, but when yes think of the world of fish the law of freshness prevails over everything. We are used to seeing fish in the fish shop submerged in kilos of ice and water, this is it which is why the fish spoils immediately. Water is the first fundamental element for proliferation
bacterial. The revolution therefore lies in the method of preserving fish. The freshly caught fish, as fresh as possible, will be processed immediately in an instant way eliminating the entrails and the scales, using 3% salt water to wash it. Once cleaned the perfection will be dried with disposable paper and then hung from the tail and stored in the cell maturation.
Thanks to the climatic cabinets (ripening cells) it is possible to manage the humidity so as to reduce it to
minimum and do not let bacteria proliferate. In addition, these cabinets have the addition of ozone which sterilizes and reduces bacteria to a minimum thanks to its action that eliminates oxygen. But the question is why do the fish hang / ripen? In fish as in land animals, a hardening process of the meat takes place after death called "rigor mortis". Therefore it is necessary to let the meats rest before their consumption. The aging of fish arises from this need and moreover with the aim of losing part of the water present in meats so as to concentrate the flavors and modify the texture thanks to a natural process enzymatic that breaks down the proteins present, thus favoring a much softer consistency and juicy.
The fish to reach an extremely interesting consistency matures, according to the type of meat,
between 8 and 18 days.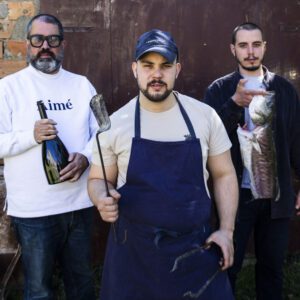 To visit Trattoria Da Lucio website and make a booking, click here.
Come Find Your Nest in Italy
10th March, 2022 – 11:30 am