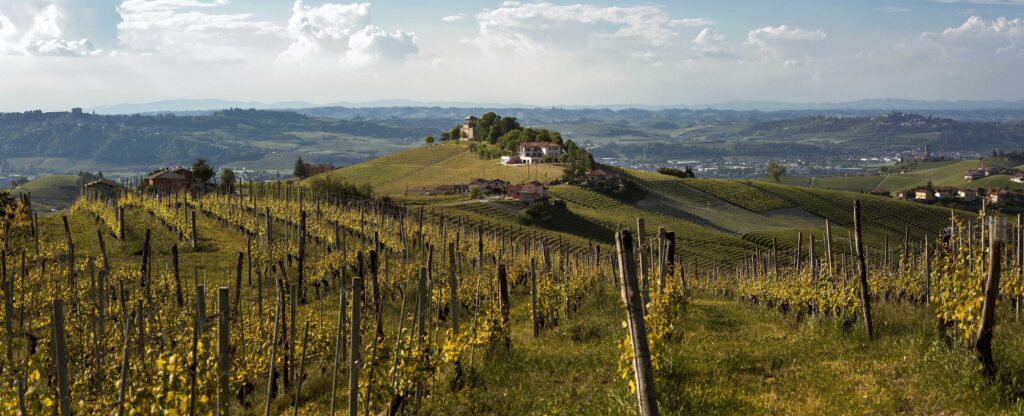 Piedmont, like every Italian region, is a land where we can find a vast wealth delevoped between art and culture, nature and architecture, gastronomy and enology.
A region with authentic and elegant traits, sometimes ancient and austere, which with its beauties leaves no space for disappointment and certainly does not lack in places to discover and experience. We find large cities, suggestive villages, boundless landscapes between hills and mountains, excellent food and wine and a tradition carried on with pride and love. A perfect combination of everything that can turn a simple holiday into an unforgettable journey.
A destination that certainly meets everyone's tastes, the most disparate, and offers the possibility of living a 360-degree experience made one hundred percent in Piedmont. Unmissable destinations among castles, churches and museums to visit, trips to the mountains or to the lake for nature lovers, ad hoc itineraries made of excellent cuisine and the discovery of UNESCO heritage sites for the more passionate (even four present in this region).
Today we offer a dip in the most evocative places in Piedmont, with the possibility of discover and stay in our "Nests", carefully chosen and selected for you, so that they can be the thing that will make your holiday even more magical.
We choose to stay at a small and reserved bed and breakfast called Langhe Country House, an oasis of peace and pure tranquility just a few steps from the most beautiful points of interest of the area.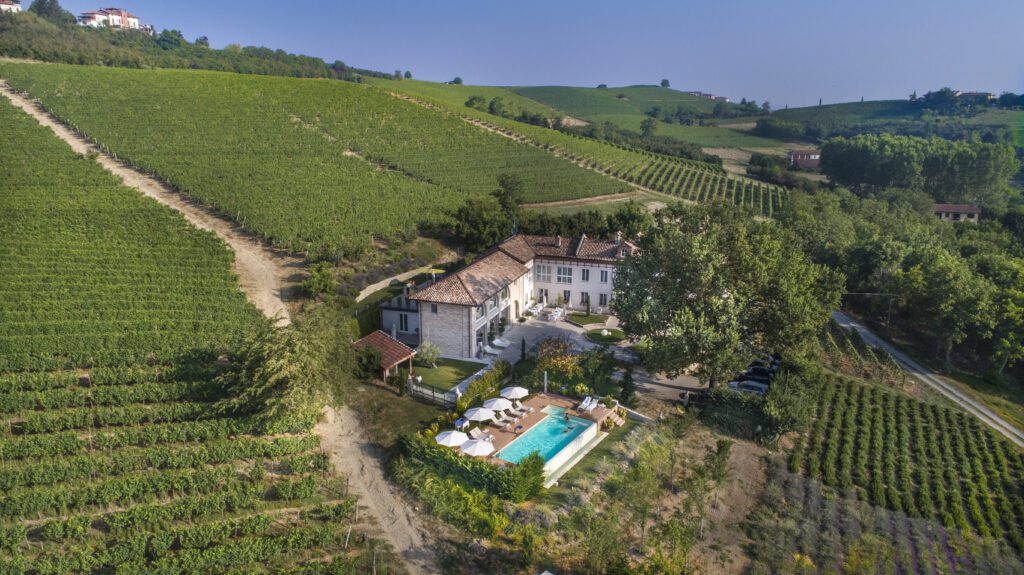 The owners will welcome you into their home, a finely restored farmhouse with the utmost respect for tradition and with local materials, where you will experience a stay dedicated to eco- sustainability and savoring the zero kilometer products grown in this little corner of paradise.
Equipped with only six suites, all very well-kept and tastefully furnished, the structure offers both an outdoor swimming pool open in the warmer months and a private spa where you can enjoy moments of intimacy following magnificent wellness programs.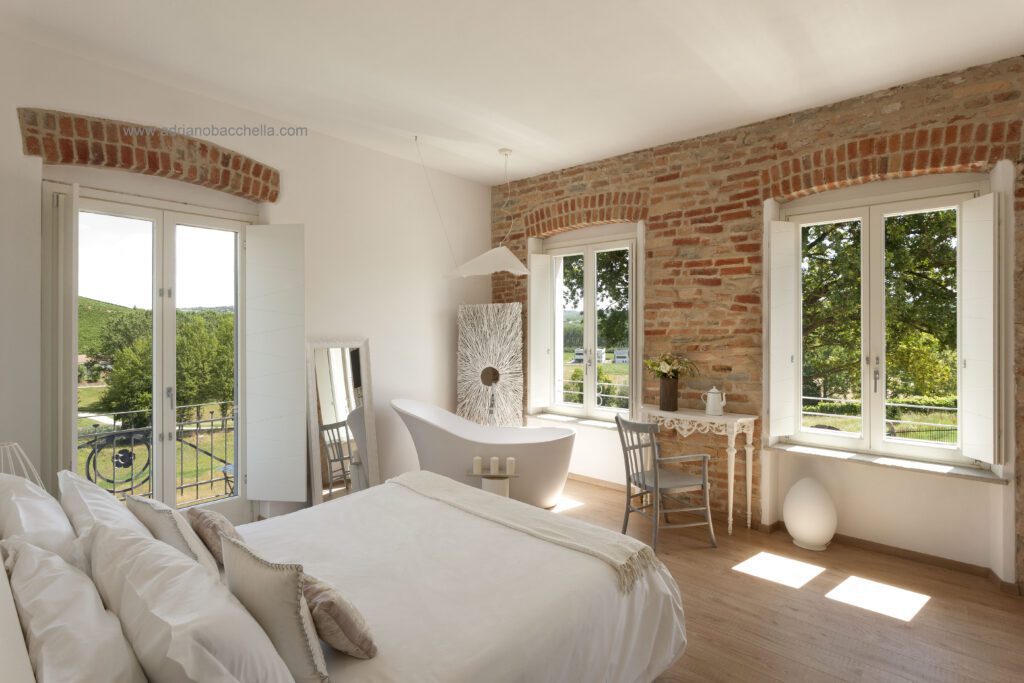 We want to propose you, always in the area, a stay at Casa di Langa, a structure with a different, contemporary and innovative character, with a sustainable and unique philosophy.
The hotel, which is located in the small village of Cerretto Langa, offers the possibility of experiencing a stay dedicated to relaxation and to the relationship with the nature that surrounds it. Equipped with a swimming pool and wellness center, it is committed to be a luxurious place that fully respects the environment in which it is located. Its design and architecture are distinguished by great elegance combined with simplicity, while maintaining respect for local tradition.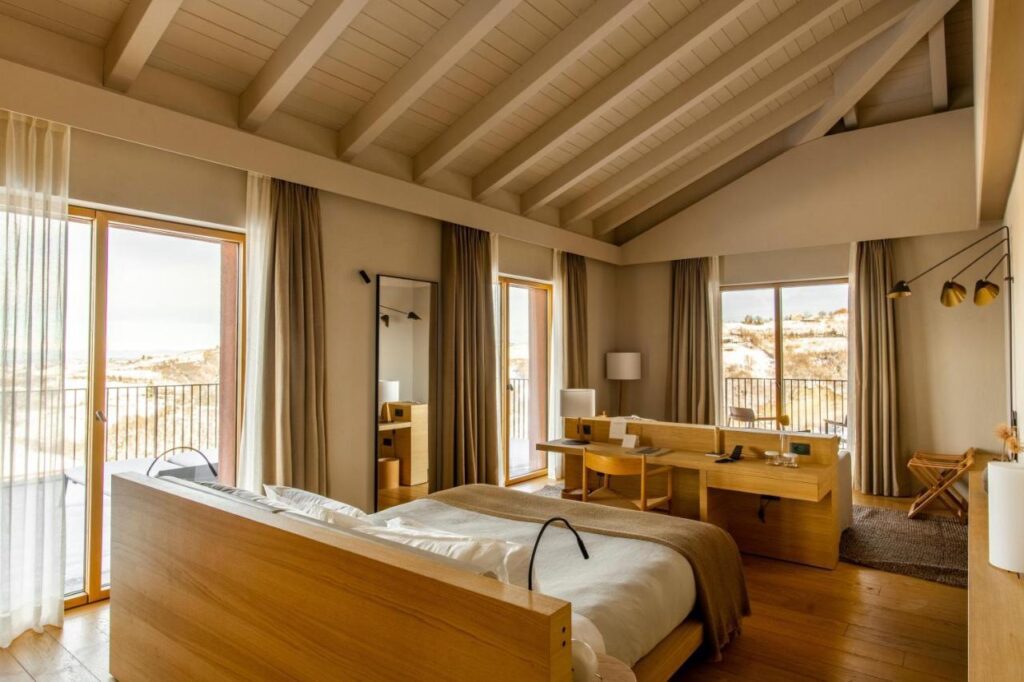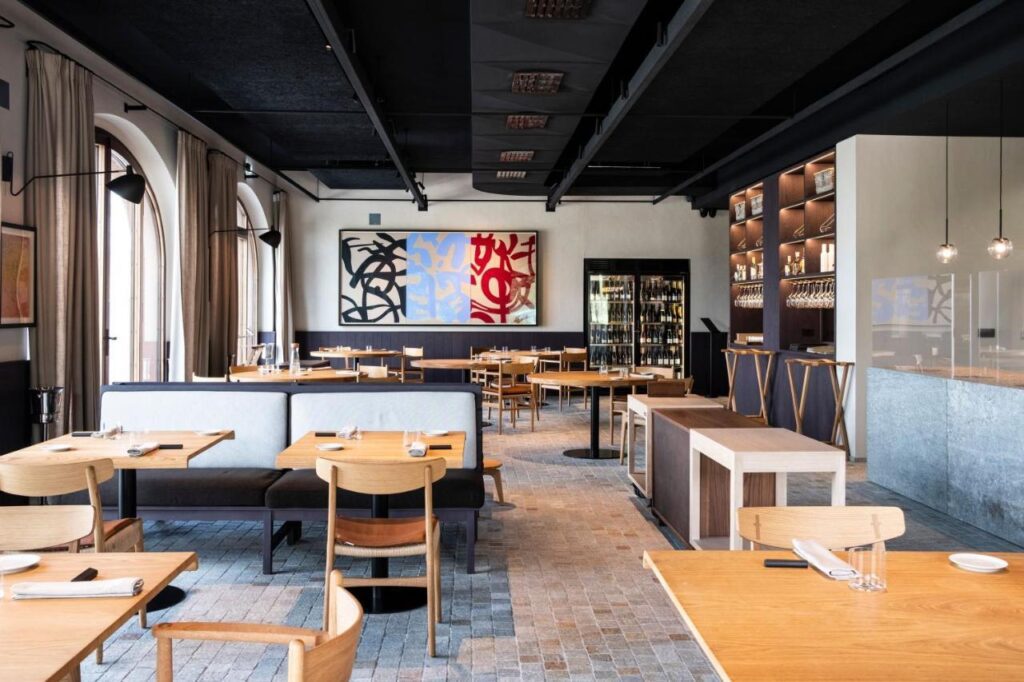 Since the structures are located in the center of the Langhe, it will be possible to quickly reach many of its most famous destinations, starting right from the small village of Neive, which has also been included in the coveted ranking of the "Most beautiful villages in Italy". This small town, extremely well known for its abundant number of vineyards, is one of the ancient villages of the land of the four wines, which the most expert will know to be Barbaresco, Dolcetto, Moscato and Barbera, full of elegant palaces and ancient buildings that can be explored . You cannot miss a visit to the thirteenth-century Clock Tower, the Castle and the classical religious structures.
Another village to visit is certainly Alba, a town with medieval origin and also included among the UNESCO World Heritage Sites, very famous for the festival that it is proud to host every year, the Alba White Truffle Festival, which takes place every autumn and attracts tourists and lovers of this delicacy from all over the world. While strolling through the narrow streets of this town, don't forget to visit the underground city, together with the Piazza del Risorgimento and the Cathedral of San Lorenzo.
Still nearby we find La Morra, also known as the "Belvedere delle Langhe" due to its strategic position and the breathtaking view that it offers. Definitely known for the extravagant colored church, the result of contemporary art designed by Sol LeWitt and Devid Tremlett, the Barolo Chapel. Do not miss a visit to the 1700 Bell Tower and the Church of San Martino, as well as of course the Belvedere area.
There are many other villages that deserve to be seen and among these we also want to suggest you Serralunga d'Alba, Barolo, Barbaresco, Grinzane Cavour, Cherasco, Monforte d'Alba and Bra.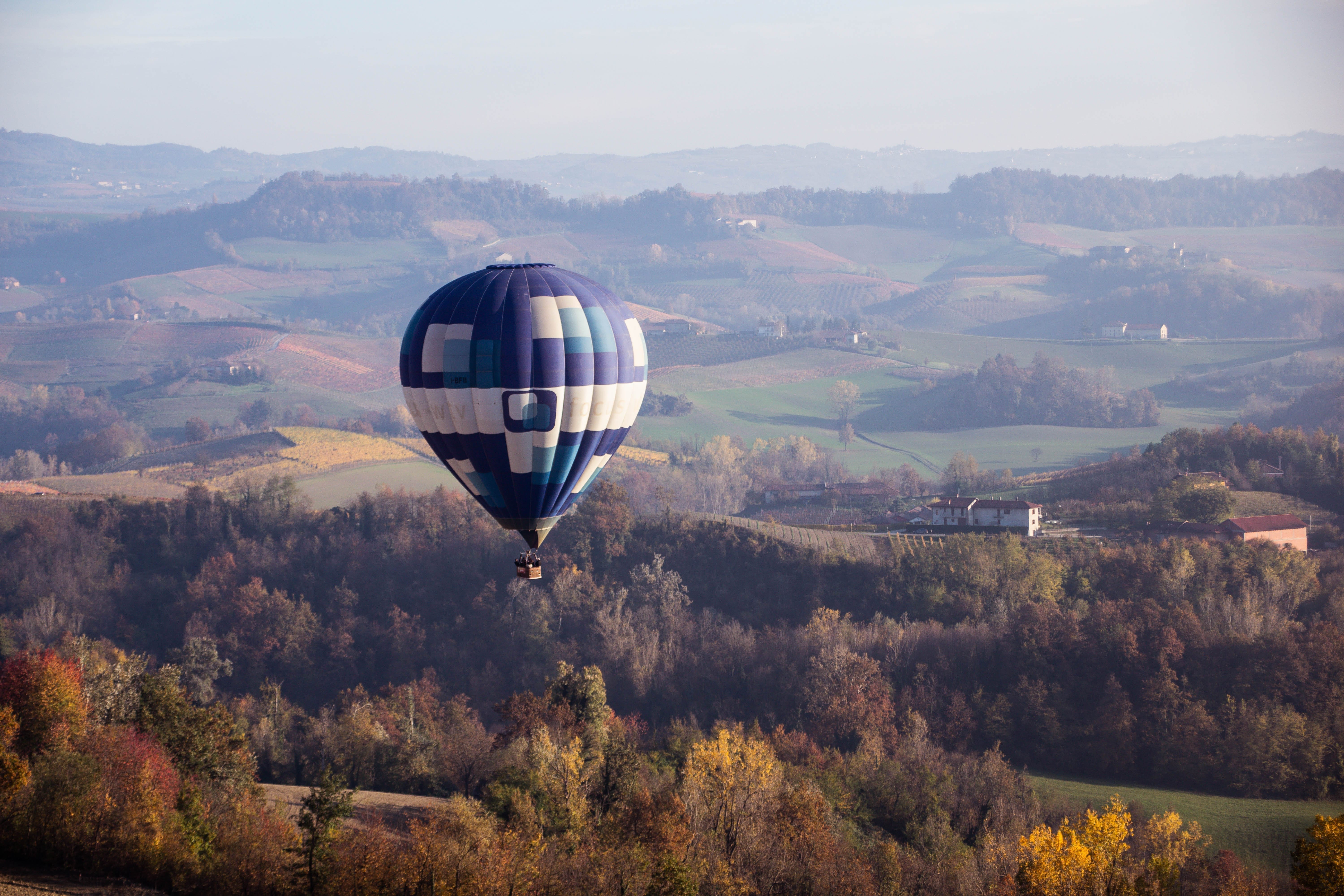 Just a few minutes away from the small village of Barbaresco we find another Nest that we want to recommend you for your stay in Piedmont, Agriturismo dai Grèsy, an exclusive place surrounded by vineyards and where you can enjoy an holiday in total tranquility. The rooms, eleven in total, are all designed with a minimal and elegant style and the structure, finely restored recently, is equipped with an architecture aware of the surrounding environment and stands out the balance between modernity and tradition. Equipped with a swimming pool and also a spa, this farmhouse is the perfect place to relax and fully live the experience that this land is able to offer.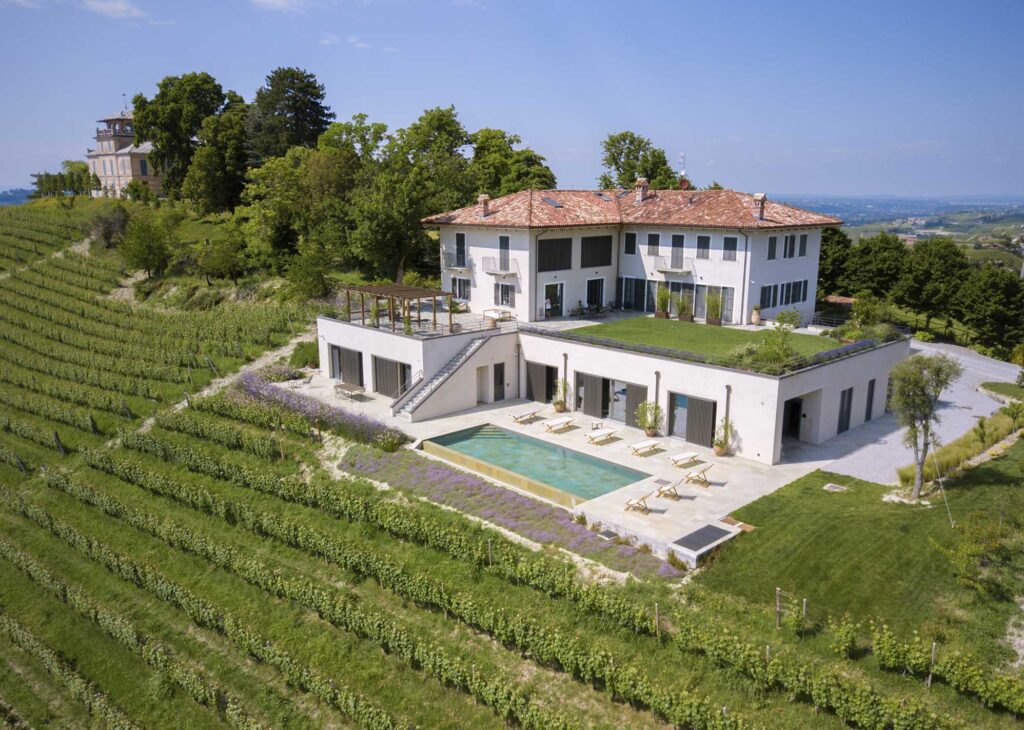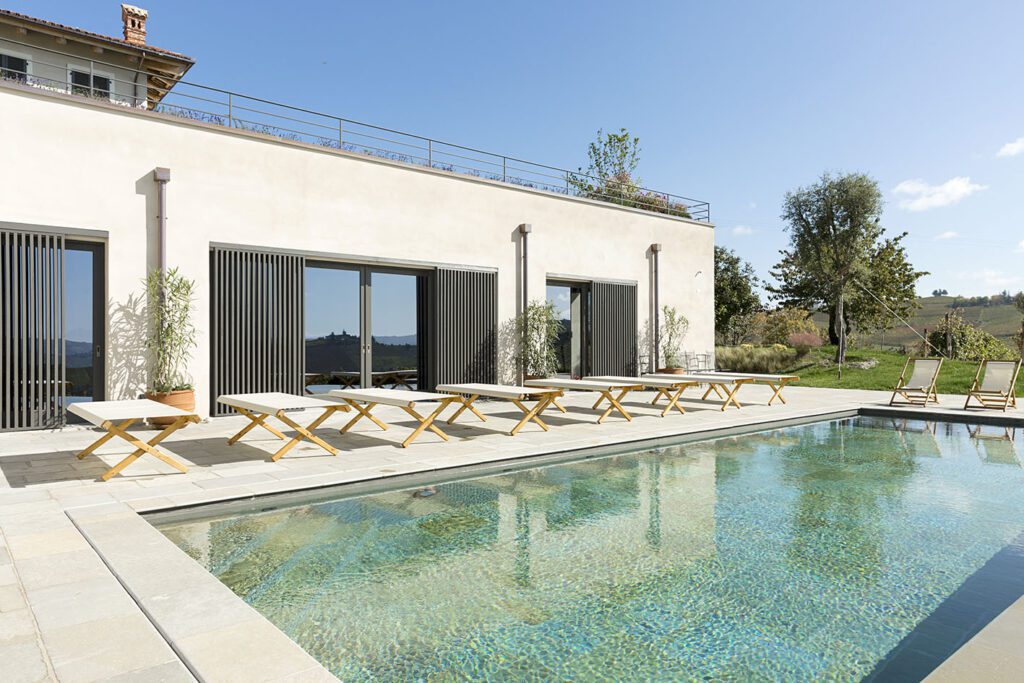 *Tips: to eat excellent dishes, well-prepared and delicious, accompanied by excellent wine, we recommend Ristorante Iride which is located in the Roddino countryside, just 30 minutes from Neive. Especially recommended during the truffle season, where you can taste different types of truffle of excellent quality. Very close we also find Borgo Sant'Anna, a very valid gourmet alternative signed by a starred chef. Other very good restaurants in the area are La Vigna Bio near La Morra, Osteria dei Binelli near Dogliani, Piazza Duomo Alba and Ristorante Battagino in Bra.
We then move to Monferrato, an area also included in the UNESCO World Heritage Sites and famous for its wine, food and landscapes, a purely hilly area bordering with Langhe and Roero and the Liguria region.
We decide to propose you a very suggestive structure called La Raia, a Locanda with a biodynamic farm and an undeniable charm. Equipped with 12 rooms, all different from each other and with the attention to the smallest details, the structure offers the vision of a conscious design, which seeks harmony between the internal and external spaces and guarantees authenticity and elegance in respect of the pre-existing buildings, preserving their forms and architectures. You will be sorrounded by vegetable and italian gardens and you will enjoy moments in the swimming pools, both indoor and outdoor, and in the beautiful wellness centre. Another gem of this fascinating place is the cuisine, centered and focused on local and seasonal products, which for some years is hosting a young starred chef who designs and creates the menu of the Locanda's restaurant.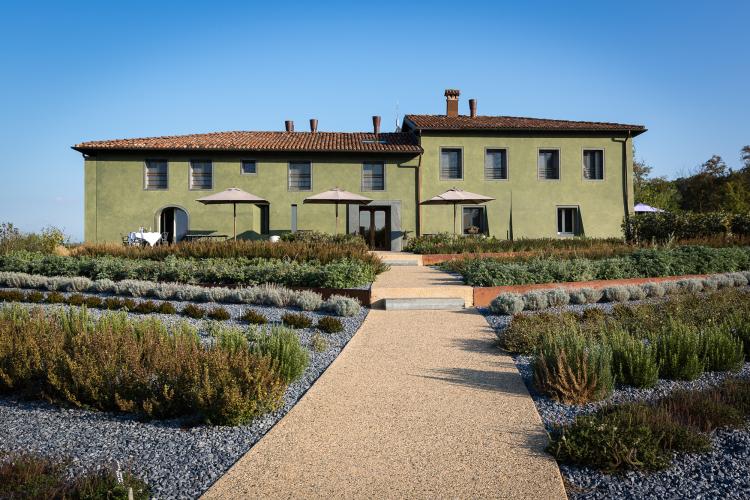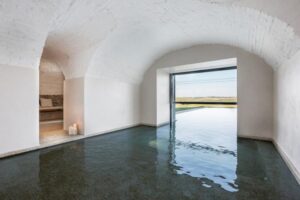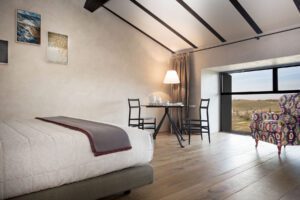 A few minutes from Locanda La Raia we find Gavi, a small town in the province of Alessandria which boasts the recognition of the Orange Flag, that is a "recognition of tourist-environmental quality conferred by the Italian Touring Club to small towns that stand out for an offer of excellence and a quality welcome". Its small historical center certainly deserves a visit, together with some important buildings such as Palazzo del Comune and the various churches; not to be missed is the Portino from the 13th century, the remains of the access gates to the town, and the Forte di Gavi, the undisputed symbol of this village.
We then move to Asti, the capital of the Piedmontese province that takes the same name, known mainly for its varied enological quality and above all for the Asti sparkling wine also known as Douja d'Or. This town is rich in culture and history and like any ancient city is full of sumptuous buildings, churches and architectural testimonies belonging to different eras, that cannot be missed to visit. We can have a general overview walking through the streets of the historic center where we can notice the wealth and prosperity of various sites of interest in the city; do not miss a visit to Palazzo Mazzetti, the civic art gallery of Asti and to the Crypt of Sant'Anastasio with its museum, both truly unique and evocative places.
Another town to visit is undoubtedly Casale Monferrato, the second most populated inhabited center in the area, a perfect destination for art and culture lovers and endowed with various monuments and museums, where an enviable artistic heritage, relating to works of painting and sculpture, is preserved. In its historic center, crossing ancient arcades and contemplating ancient buildings, you can visit the Cathedral of Sant'Evasio, the Baroque-style Synagogue and the Castle of Monferrato.
*Tips: as worth destinations to enjoy some good and traditional cuisine we recommend the Belbo Da Bardon restaurant not far from Santo Stefano Belbo, excellent both for its quality of meat and for the variety of wines; then Cascina Faletta and Accademia Ristorante in Casale Monferrato, the Cavallo Scosso in Asti and Trattoria ai Nebbioli near Gavi.
Furthermore, a must for those who will be traveling to Piedmont during the autumn season is the activity of Truffle searching with dogs, which you can live thanks to our experiences organization service, in the places you prefer most and based on where you choose to stay.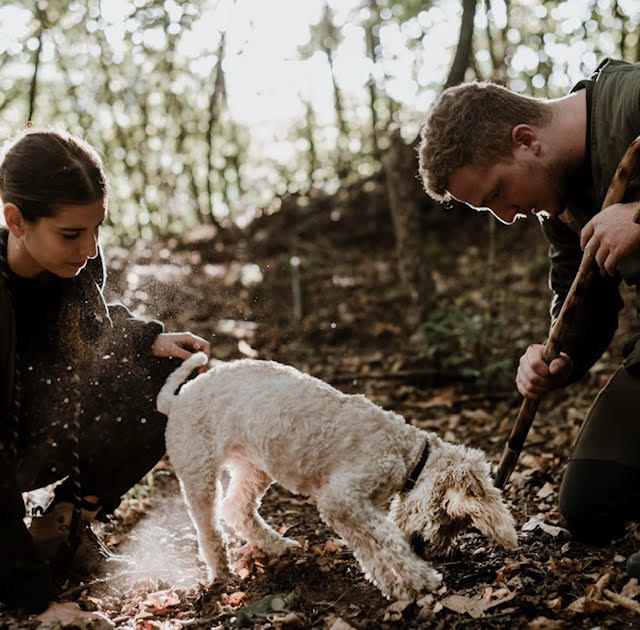 Finally, we cannot fail to recommend you to visit the splendid Turin, the capital and most famous city of Piedmont, rich in history and with a glorious charm.
This marvelous city of art was also the birthplace of Italian industry and today it is defined as a town endowed with elegance and refinement, full of numerous points of interest to visit as well as realities to get to know. Sometimes underestimated, this remains one of the most beautiful Italian cities, where stand out prestigious monuments, museums, churches and cultural offerings of various kinds.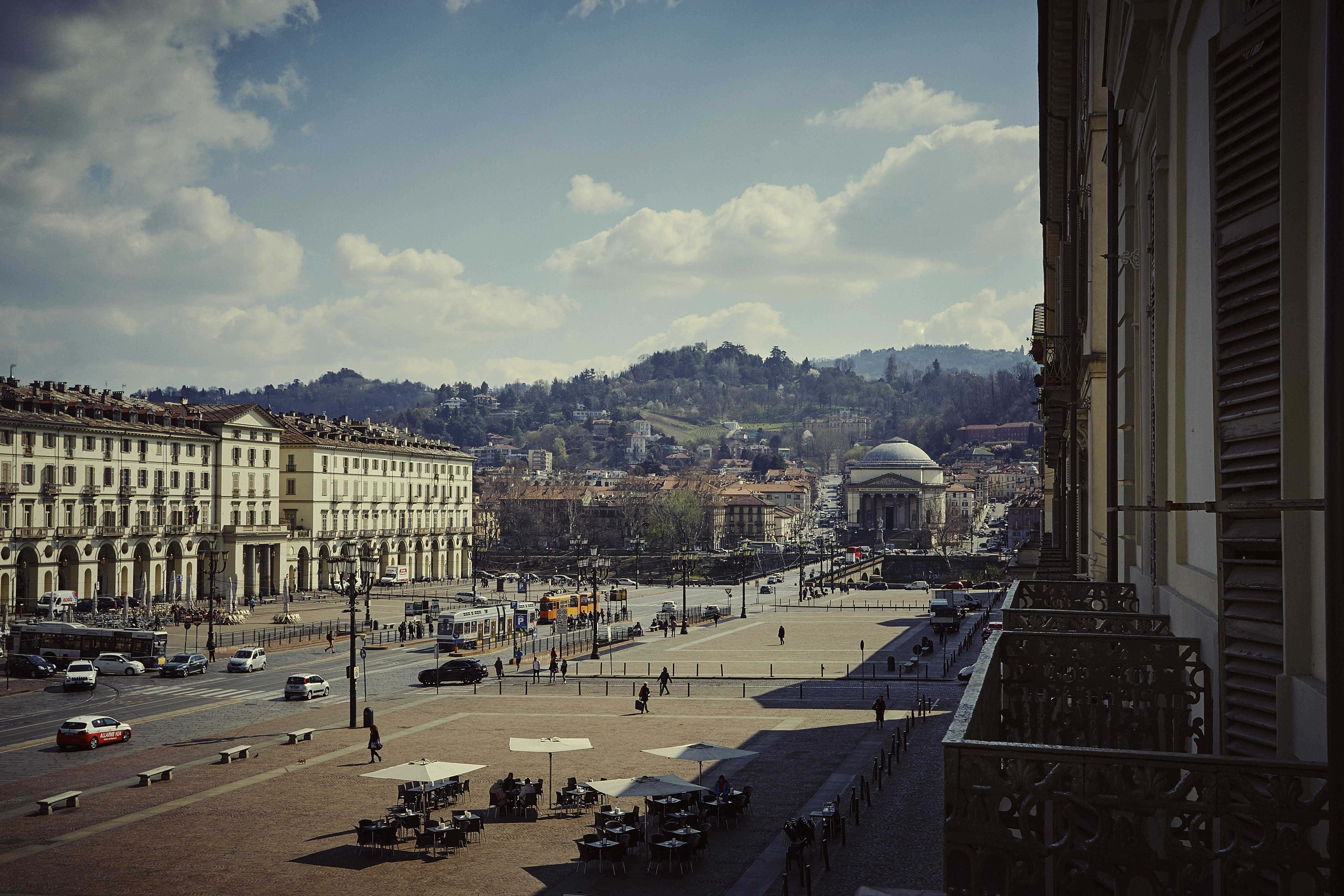 Once you arrive in Turin, we suggest you to stay at LookTo, a small bed and breakfast located in the city center in one of its historic buildings, more precisely in Piazza Vittorio Veneto, in a truly stratecig position for those who want to enjoy the center between a walk and another. The structure is equipped with only four rooms, all refined with a design and style that aim to convey the feeling of being at home. The attention to detail stands out above all and the furniture, which is also finely cared for, was created specifically for this place by local artisans who have really put a lot of passion into this work. A small curiosity is that most of the furnishings inside the structure can be purchased by consulting the appropriate e-shop.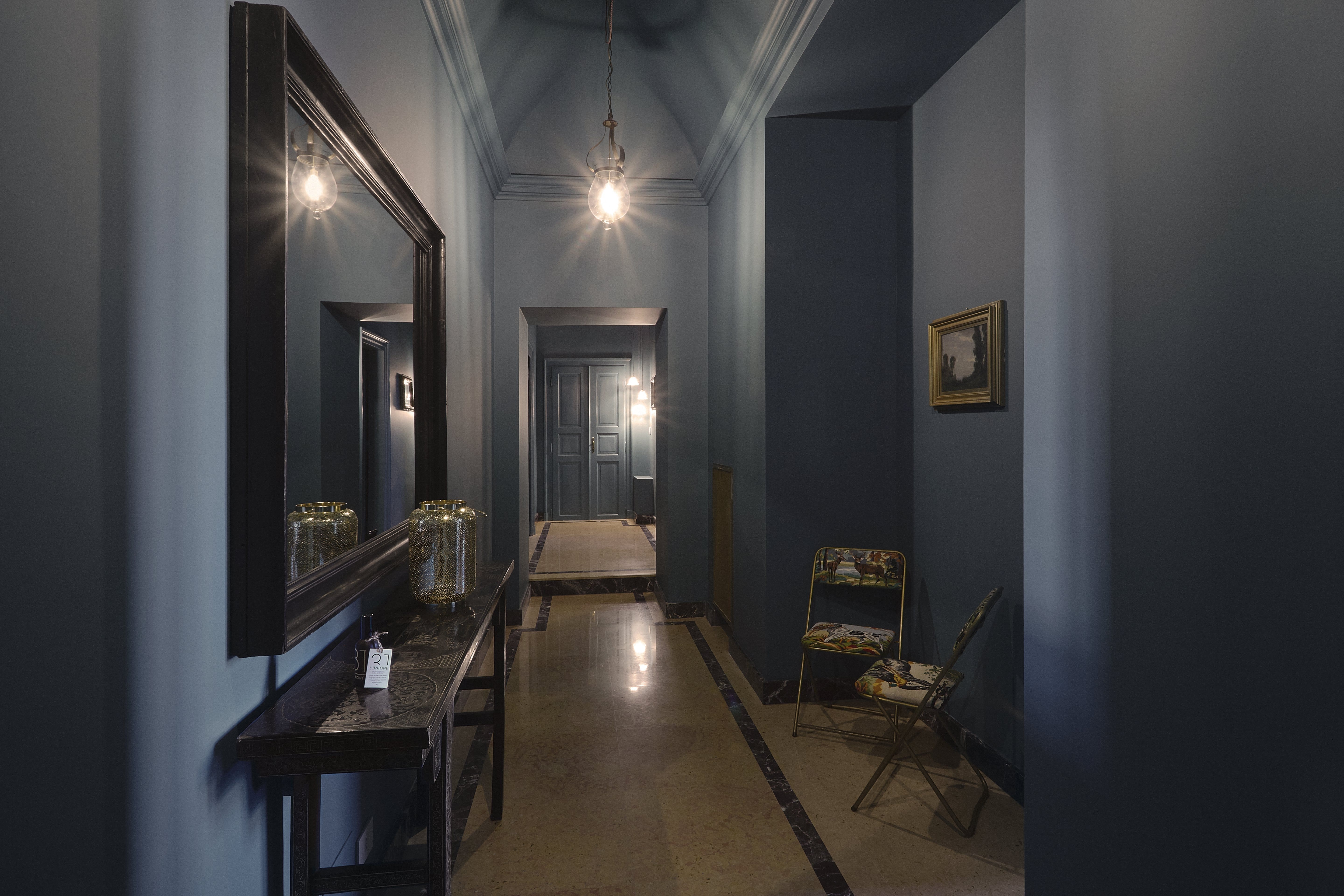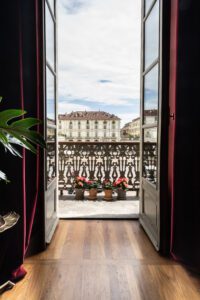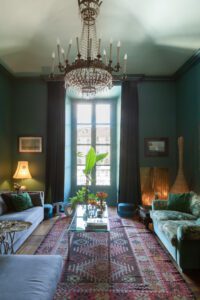 *Tips: to eat some excellent local cuisine we suggest the Tre Galline restaurant and, by the same owners and located on the opposite corner, the Tre Galli restaurant, which offers a more contemporary reinterpretation of cuisine and has a beautiful panoramic terrace. Other restaurants with a soul and a classic menu are Osteria Antiche Sere and Scannabue restaurant.
In conclusion, we can say that finding ideas for create different itineraries in Piedmont is a really simple activity, given by the wide choice that this splendid region offers us. Now it's up to you to plan your journey to discover these suggestive Italian beauties, to enjoy its always beautiful landscapes, its cuisine which is famous not only for the truffle, the art which becomes the protagonist of an authentic story and the wine that will be your faithful companion, without being surprised if once you return you already want to leave again in the name of this wonderful land.
Written by Martina Paganoni: @evasiondecharme
Come Find Your Nest in Piedmont
For info and reservations please send us an email: