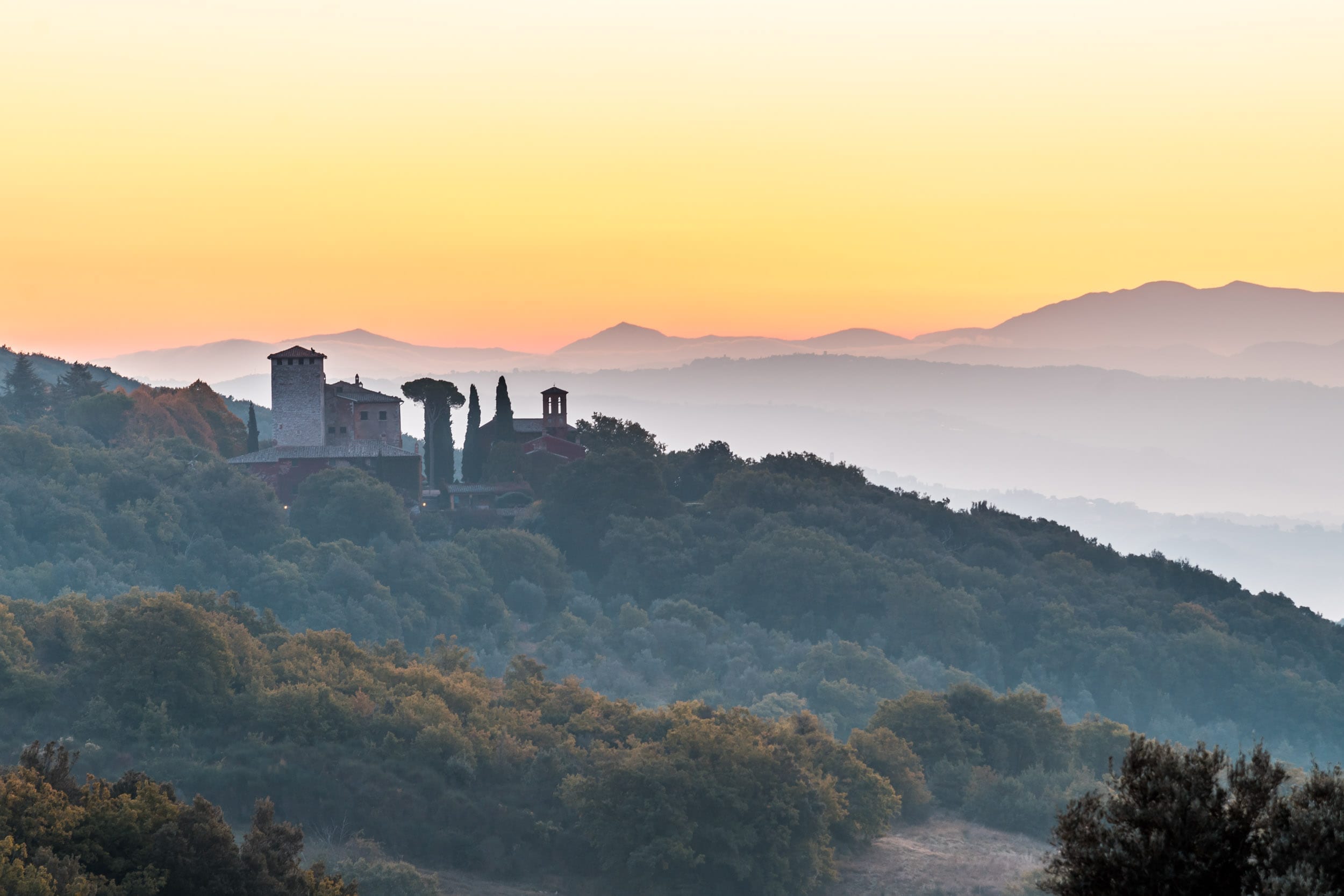 I loved Umbria since the first time my eyes met the extraordinary beauty of this region, sometimes underestimated or little known, but which absolutely deserves to be discovered.
An idyllic and unspoiled nature meets the beating heart of Italian art, generating superlative beauty, characterized by boundless landscapes full of suggestive villages and an history that seems not to belong to the past. Over the centuries, Umbria has kept its attachment to local tradition alive and has been the one of the protagonist of Italian cultural life. Land of artists and saints, endowed with a unique artistic heritage and countless architectural beauties, this small region is the perfect combination of the slow living lifestyle and the liveliness that all the various attractions offer.
Located in the center of Italy, its position is certainly enviable and strategic, as it is possible to reach many destinations in a short time, both within the region but also in neighboring ones such as Tuscany and Lazio. I believe that Umbria is a bit for everyone, you just need to find the part of the region that most stimulates and resembles us. In my opinion there is no need for particular indications or advices to visit the fascinating villages that characterize Umbria, as I believe that their beauty is so objective that it is enough to be guided by your own personal feeling to be accompanied in the discovery of these Italian wonders.
To discover this region in its entirety and in an exhaustive way, a trip of at least two weeks would be required, but Umbria is also suitable for shorter trips, as it's easly still possibile to reach numerous attractions, both artistic and landscaping. Road trips by car are particularly popular as the distances to travel from one place of interest to another are really minimal.Today we propose you two ideas for two different itineraries, with the possibility of staying in two of our "Nests", carefully selected and perfect to welcome you and accompany you to discover this beautiful region.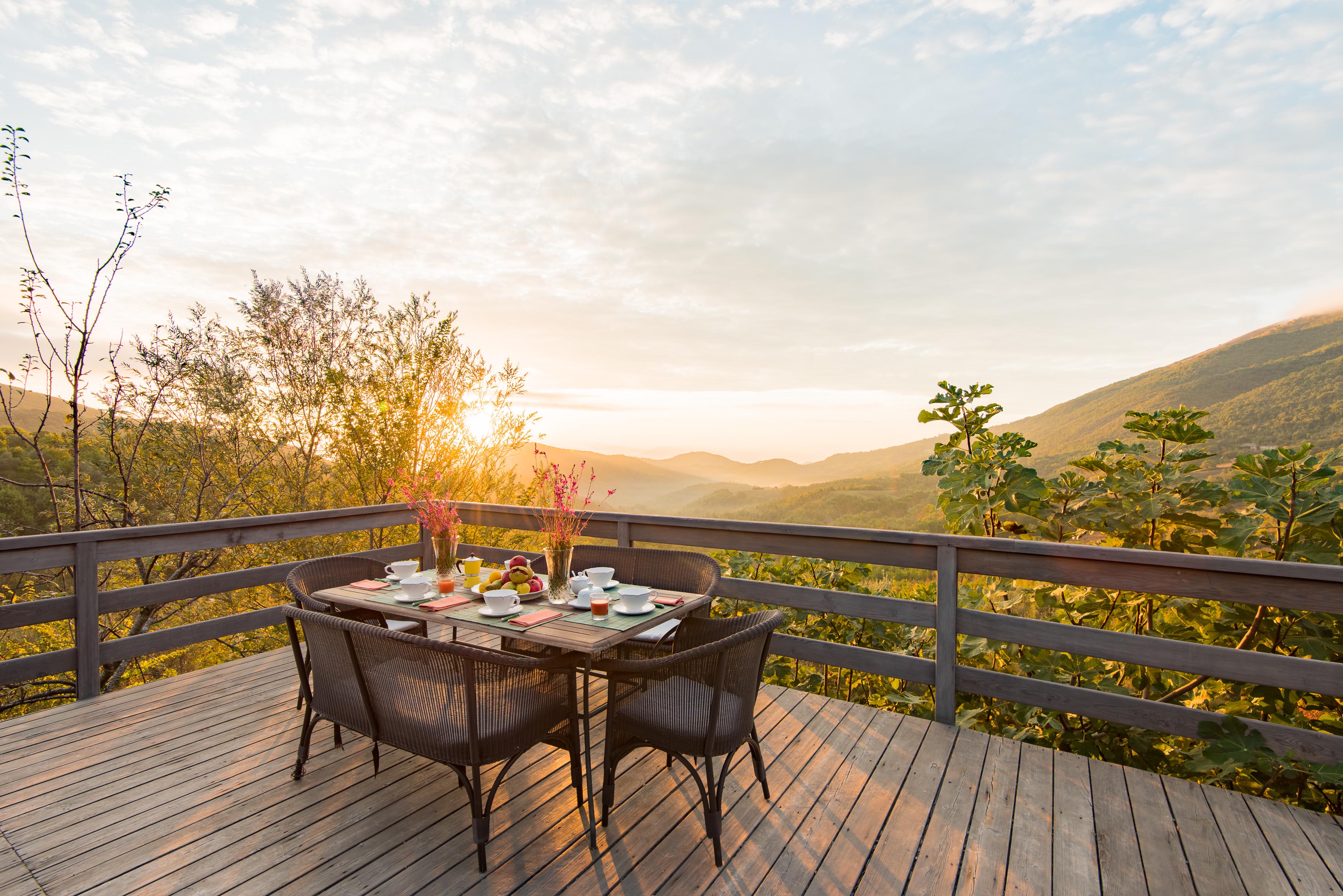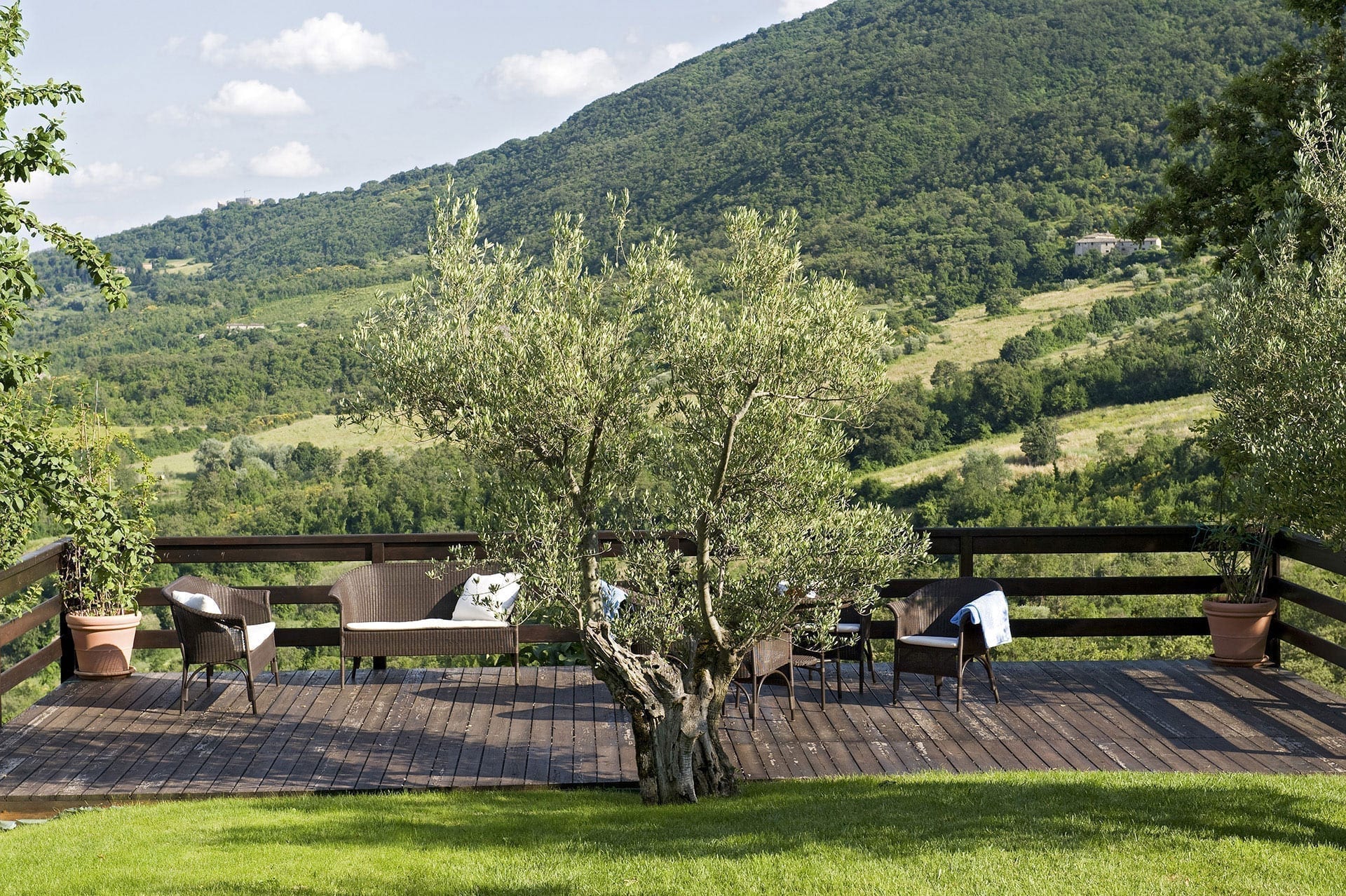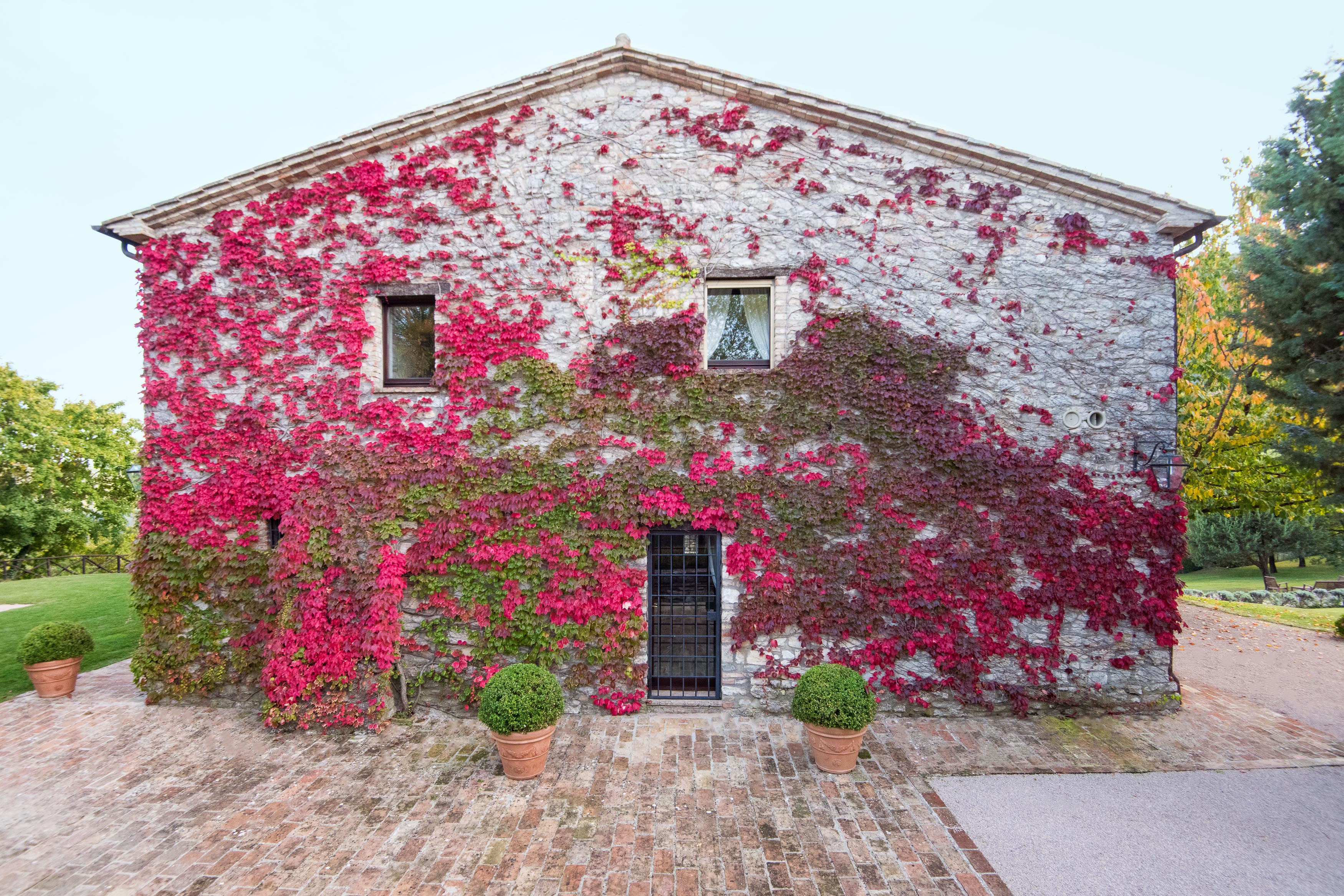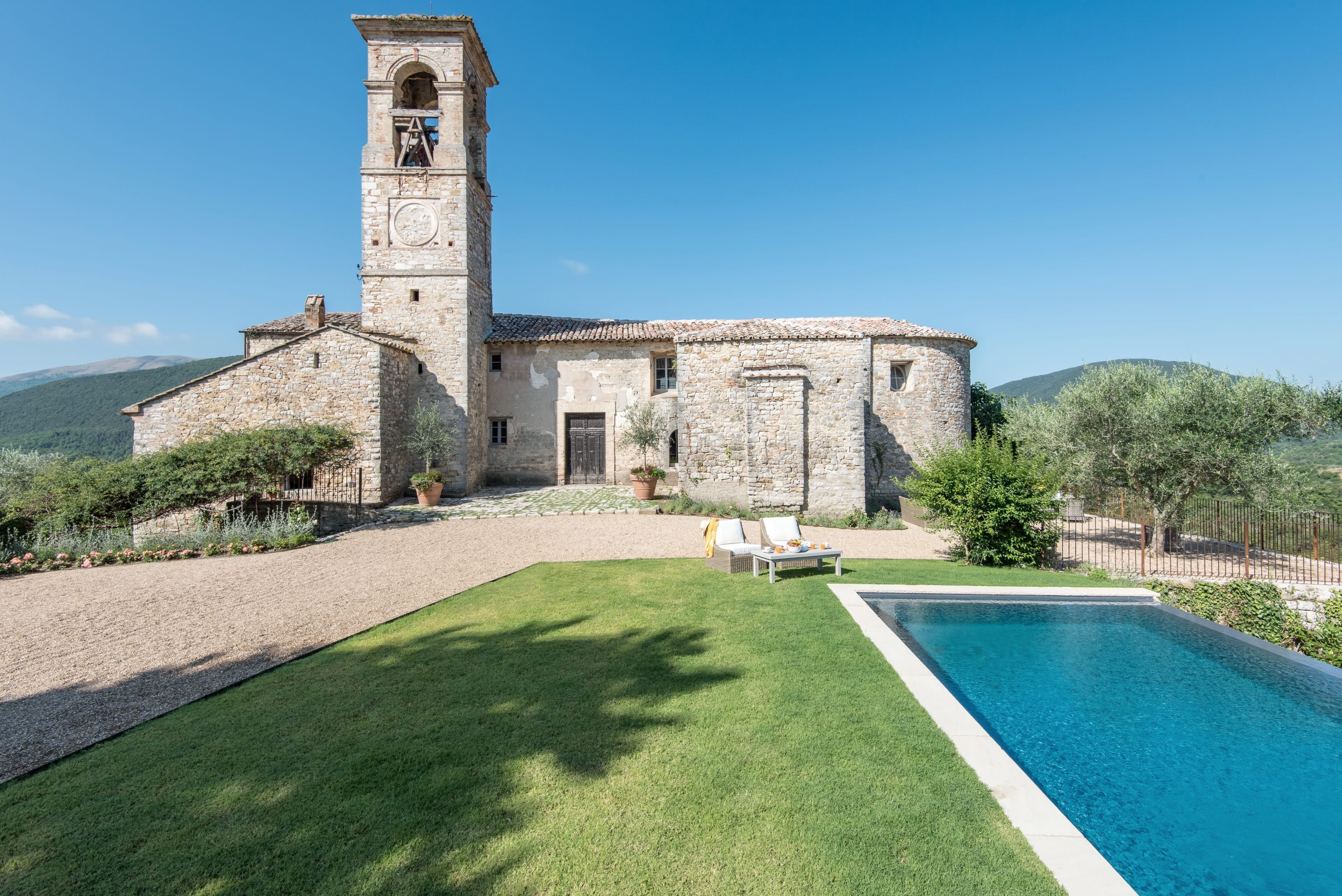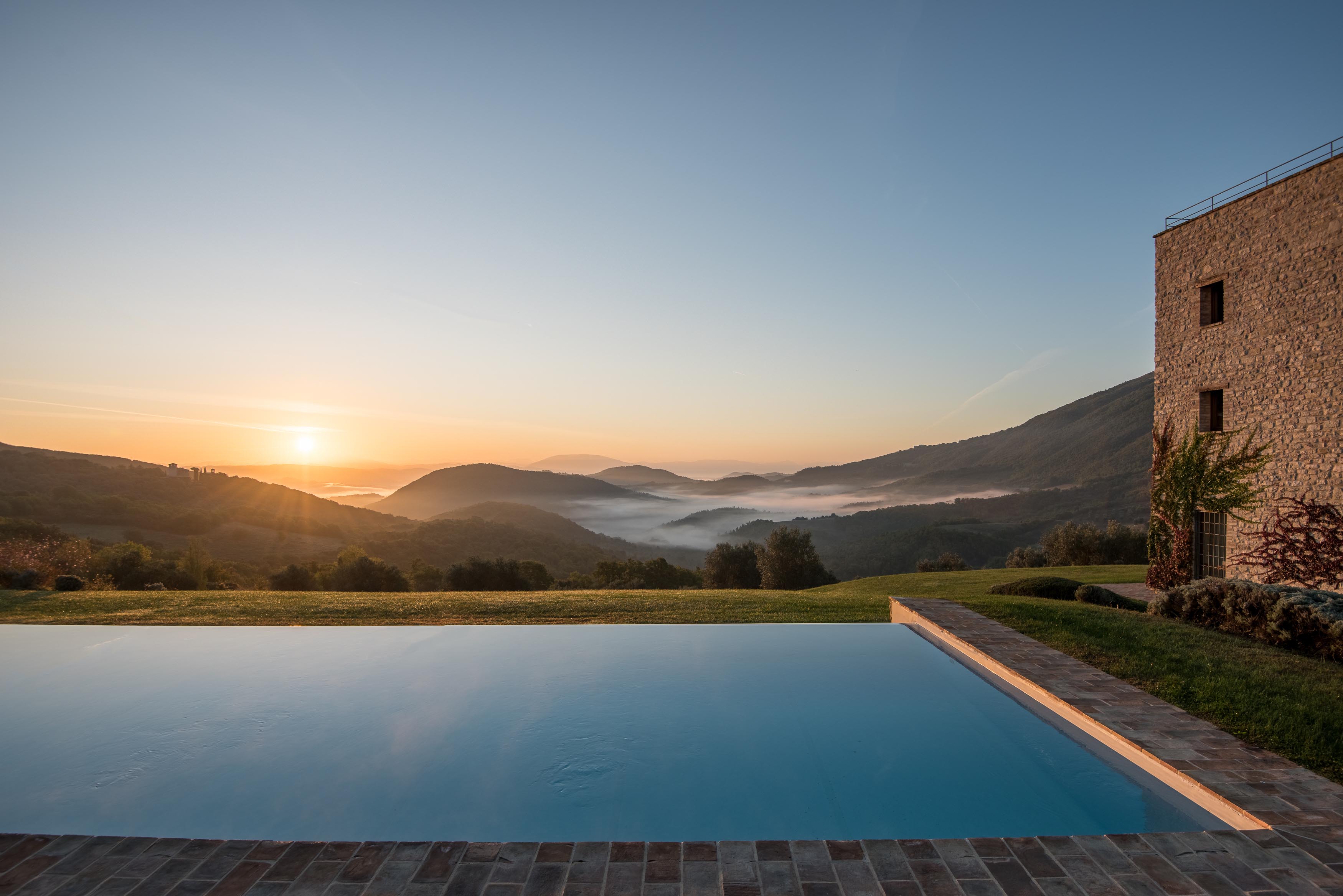 We find our first Italian Nest around Perugia's area, just 20 minutes away from the Umbrian capital; in this way we ensure us a perfect position to visit some of the most suggestive villages that are nearby.
The accommodation is perfect for both families and couples, as it offers different accommodation's solutions, such as villas of different sizes immersed in the green countryside and rooms for two people with bed and breakfast service, located in a dedicated structure. Staying in the villas, located on a property of over 700 hectares, will allow you to fully experience the beauty of nature and enjoy immense intimacy and privacy, without renouncing on comfort and elegance; perfect for those who need to disconnect from the frenzy of everyday life. The main structure, where the rooms are also located, is equipped with a beautiful restaurant; its cuisine offers traditional and local products, very accurately presented, and an attentive and careful service.In addition, the hotel staff will be able to organize for you various outdoor activities and it will be possible to explore the entire estate, walking through its woods and paths to discover the truly incredible unspoiled nature.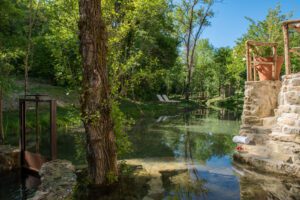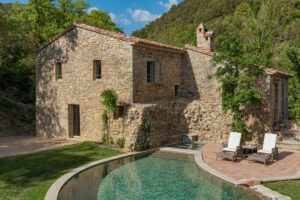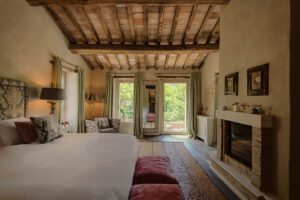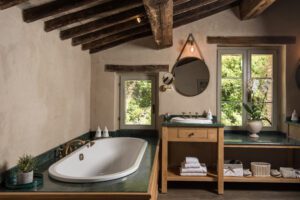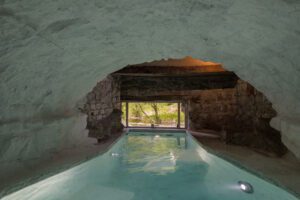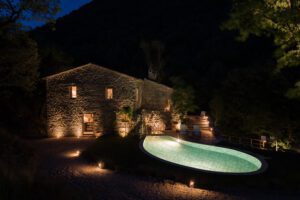 Find out more on our website here.
In the first place on the list of "villages not to be missed", and only 40 minutes by car from our accommodation, there can only be Assisi, an extraordinary city from an artistic, architectural and spiritual point of view, which dominates the surrounding green hills with its imposing walls of one of the most beautiful existing churches, the Basilica of San Francesco, which inevitably captivates all its visitors.
Always at the same distance we find the beautiful Gubbio, one of the oldest and best preserved villages in the world, surrounded by walls and developed on a hill, where you will be catapulted directly into the Middle Ages and where you will stroll through the streets breathing the true Umbrian tradition, exalted and kept alive with a lot of pride.
Unmissable stop is Perugia, as previously said just 20 minutes far away from our nest, a city with a very important value in Italian history that has developed over the centuries adapting itself to the various historical periods; it has preserved its essence, as can be seen while walking through the ancient alleys, but over the years it has also become an important cultural center, very popular also abroad thanks to its prestigious universities. Again without exceeding 40 minutes of travel we reach Spello, defined as one of the most romantic villages in Italy; also known as the city of flowers, which are the undisputed protagonists of the characteristic alleys and decorate every corner of the city, making the atmosphere very suggestive. Getting lost in the streets of this small village is impossible and can be easily visited in a short time.
Lastly, just 25 minutes away, we find Montone, elected one of the most beautiful villages in Italy in the contest "Borghi più belli d'Italia", which will surely steal a special place into your heart, as happened to me. This tiny medieval village was the first thing I saw when I arrived in Umbria the first time and it left me completely
breathless. A wonderful 360 degree view of the green valleys, dreamy sunsets, delicious food and a tradition so alive that once you cross the walls of the village you will feel like taking a dip into the past. It is also famous for hosting every year the Umbria Film Festival, a film festival held every summer, which brings together many people, also coming from abroad, especially from America. Small suggestion: if you are coming here you cannot miss the innovative cuisine of the restaurant "Erba Luna", which is located in the stables of the ancient Castle of Braccio Fortebraccio, Prince of Montone, where you can enjoy refined dishes and seasonal products while admiring the sweet Umbrian landscapes.
For our second itinerary we move a little further south, where we find our second Nest in Umbria, an estate immersed in the countryside and surrounded by a 70 acres natural reserve, perfect for a family vacation or for a group of friends, where you will find peace and exclusive intimacy, without giving up the opportunity to move and discover the surrounding beauties.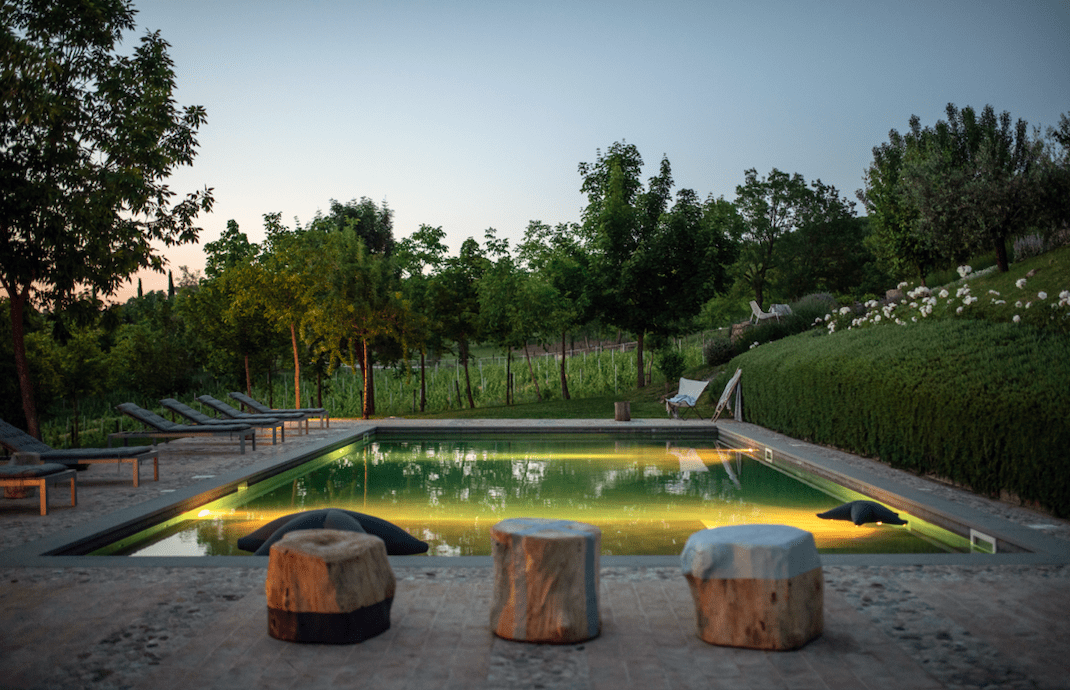 The attention to details is extremely evident, both inside the villa and outside; the furniture is finely curated and only Umbrian fabrics and materials are used, with the purpose to highlight and enhance the local craftsmanship. The exterior is characterized by an innumerable variety of plants and flowers, where you will see the meticulous care of the beautiful gardens standing out. There is nothing more beautiful than waking up in the morning surrounded by nature, going to the vegetable gardens and picking seasonal fruit and vegetables, to be enjoyed by the fantastic infinity pool surrounded by a beautiful cultivated land. The estate offers the opportunity to taste and buy their own selfmade products, in particular their line of cold-pressed extra virgin olive oil and their finely hand-blended organic red wine. To underline is the kindness of the owners, such a sunny and dynamic people, in love with this land and their business, who will give you the best tips to enjoy in a wonderful way your experience in Umbria.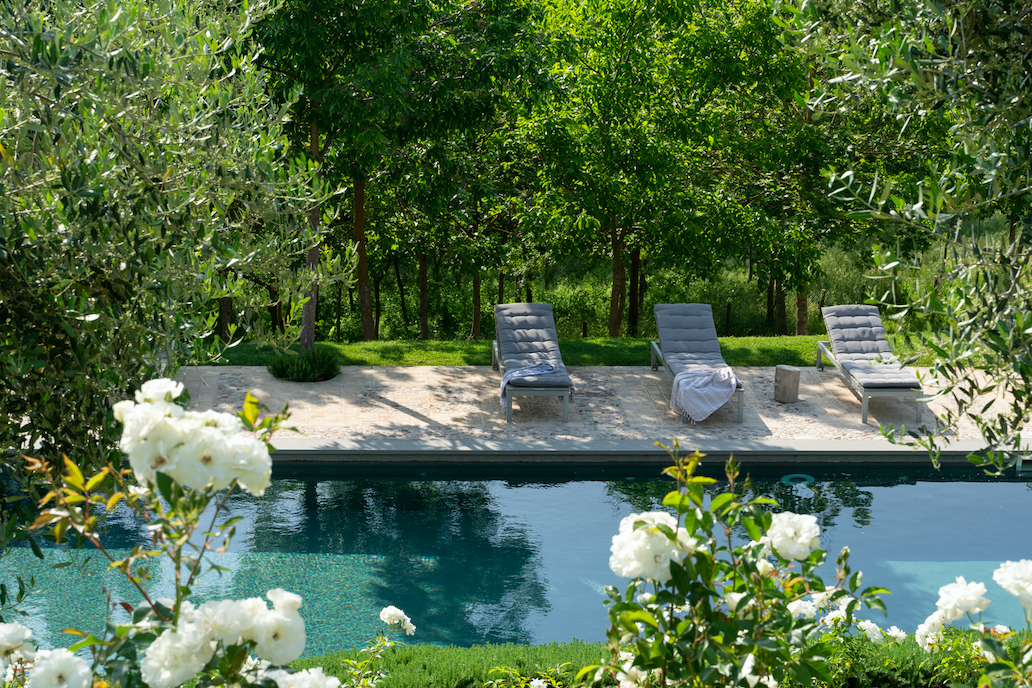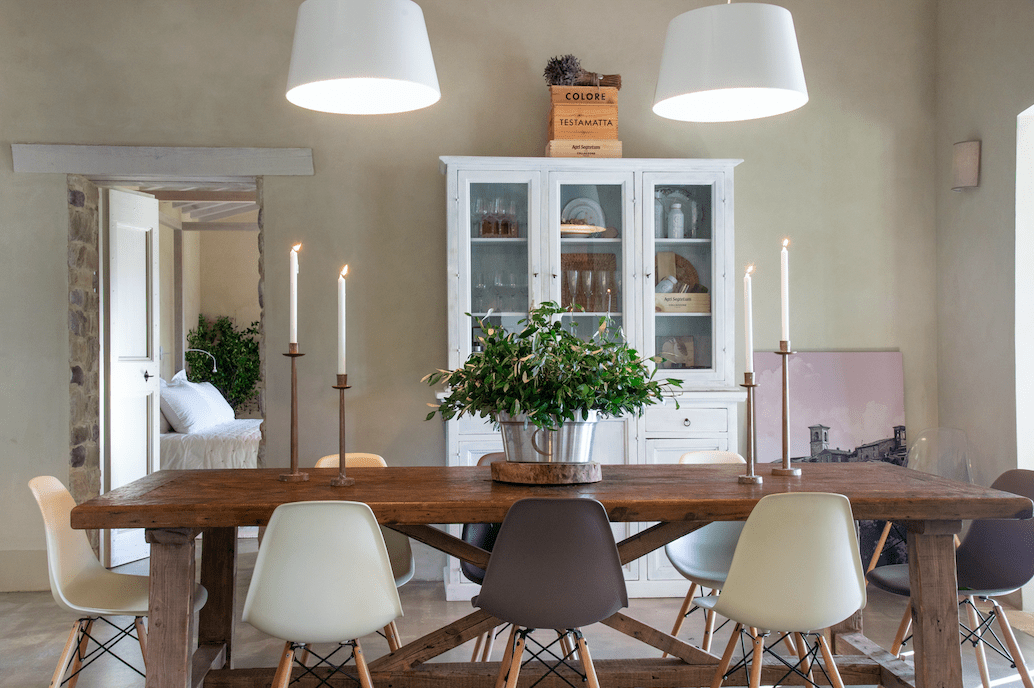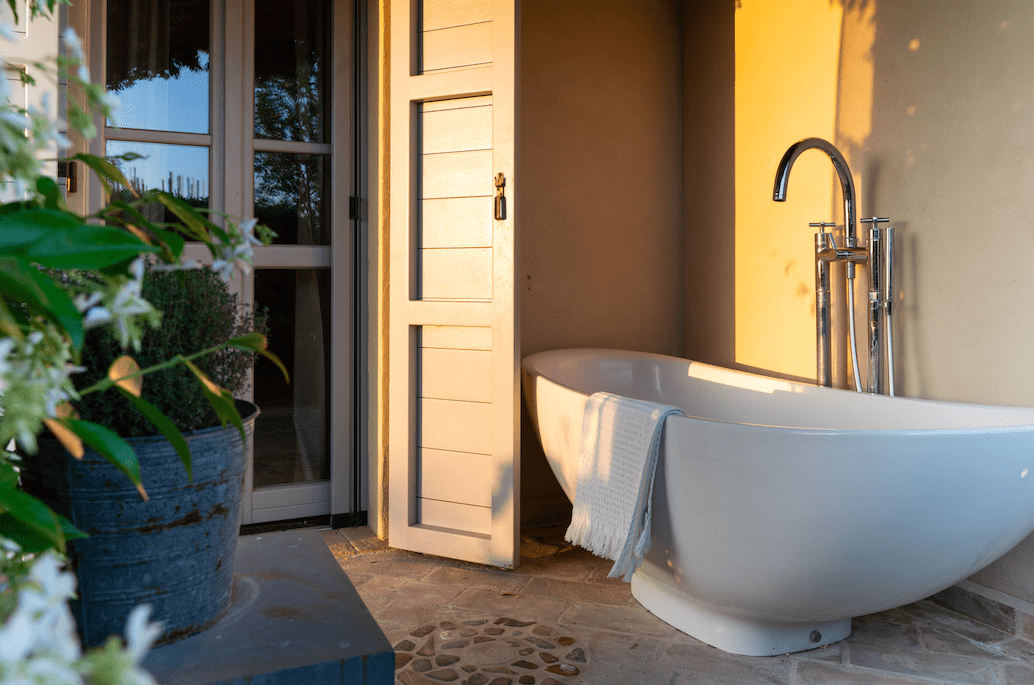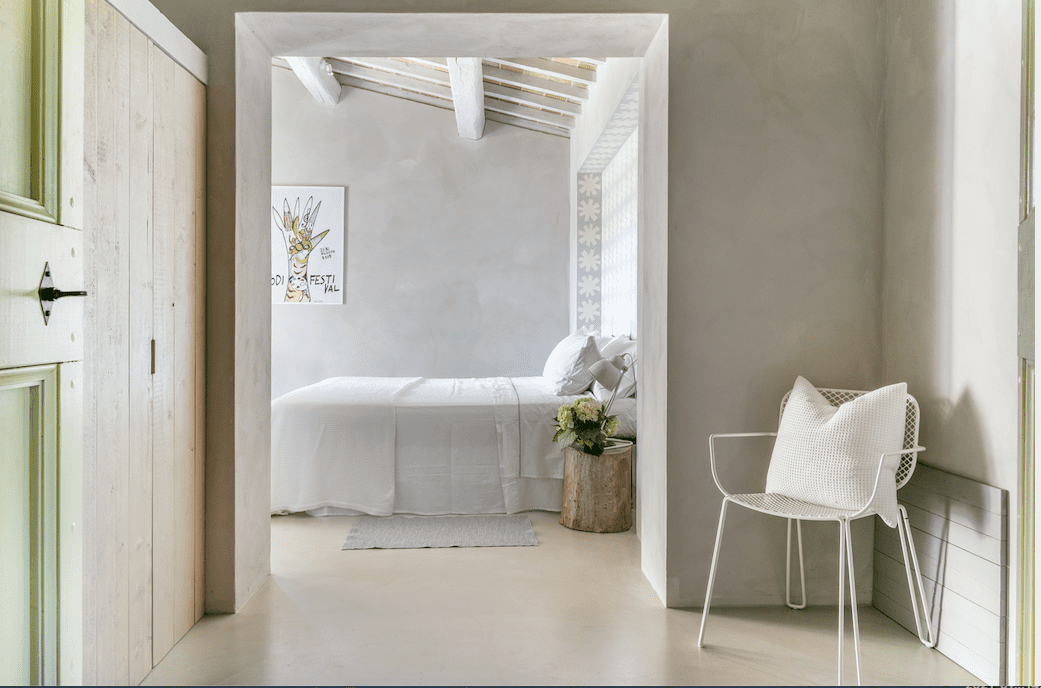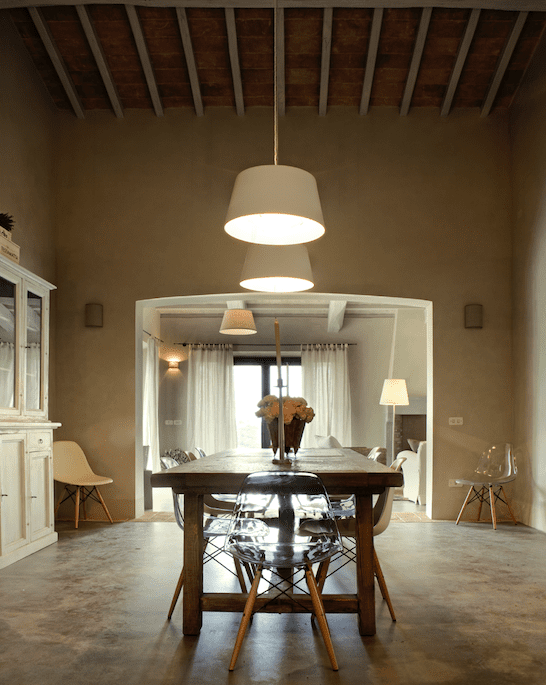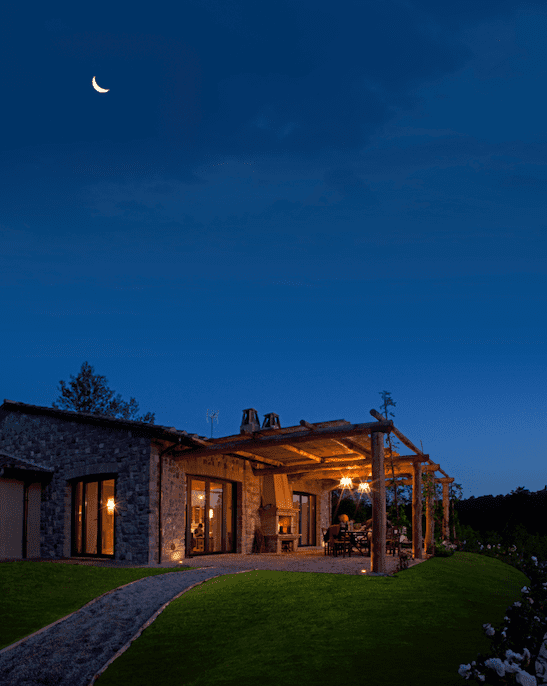 Find out more on our website here.
The nearest town to visit, which is in fact only 20 minutes away by car, is Todi; a small medieval village perched on a hill that enjoys a breathtaking view over the whole valley and which is characterized by steep alleys developed within the walls. The town center is small and can be easily visited without too many indications; certainly not to be missed is a visit to the Cathedral of Todi called the Cathedral of Santa Maria Annunziata, characterized by countless decorations and a wealth of different materials used both for the decoration of the facades and for the building itself. Another village not to be missed is Bevagna, 30 minutes away from the estate, also inserted in the selection of the most beautiful villages of Italy, will amaze you with its medieval atmosphere that is the protagonist in every alley and in every corner. Particularly striking is one of the entrances to the town, where you will find a bridge that overlooks an ancient public wash house that gives an image of a truly picturesque glimpse.
Heading east 50 minutes by car from the estate, on a beautiful and panoramic road, we arrive in a town that I believe is an absolutely "not to be missed" and which will surely be one of your favorites, which is Spoleto. It is located on a hill and surrounded by woods and green untouched nature, and once you arrive you will be struck by a mix of history and art from different periods, which come together creating a strong personality that makes this place one of the most fascinating of the whole Umbria. It is also famous for hosting the "Festival dei due
Mondi", an important international event of music, culture, art and entertainment.
At the same distance we find Orvieto, a city lying high on a cliff, which should be visited even just to admire the amazing beauty of its Cathedral, built in more than three hundred years and also known as the "Golden Lily of the Cathedrals". Only once you will be in front of it will it will be possible to understand its majesty which in words is indescribable; very impressive is also the Well of San Patrizio, the most famous well in the world.
As last stop, about 40 minutes by car, we suggest visiting Trevi, competing this year for the coveted title of "Borghi più belli d'Italia 2022", a very small town developed on a hill and that embodies the perfect emblem of Umbrian slow life. You will be impressed by the small and narrow streets and by the churches set between the houses; your gaze will be captured by the beautiful dominant image of the village seen from below.
What do you say, let's get your trip start!
Words & experience by: Martina @evasiondecharme
– –
Come Find Your Nest in Italy
27th of April, 2022 – 11:30 am