This week we were in Puglia, starting from the Gargano we stopped at the magical Trabucco da Mimi where we have been welcomed by the very kind Vincenzo, the owner, and his family.
We ate delicious fish freshly caught and cooked by him, and then slept in one of the rooms overlooking the sea, recently renovated by architect Alessandro Clima.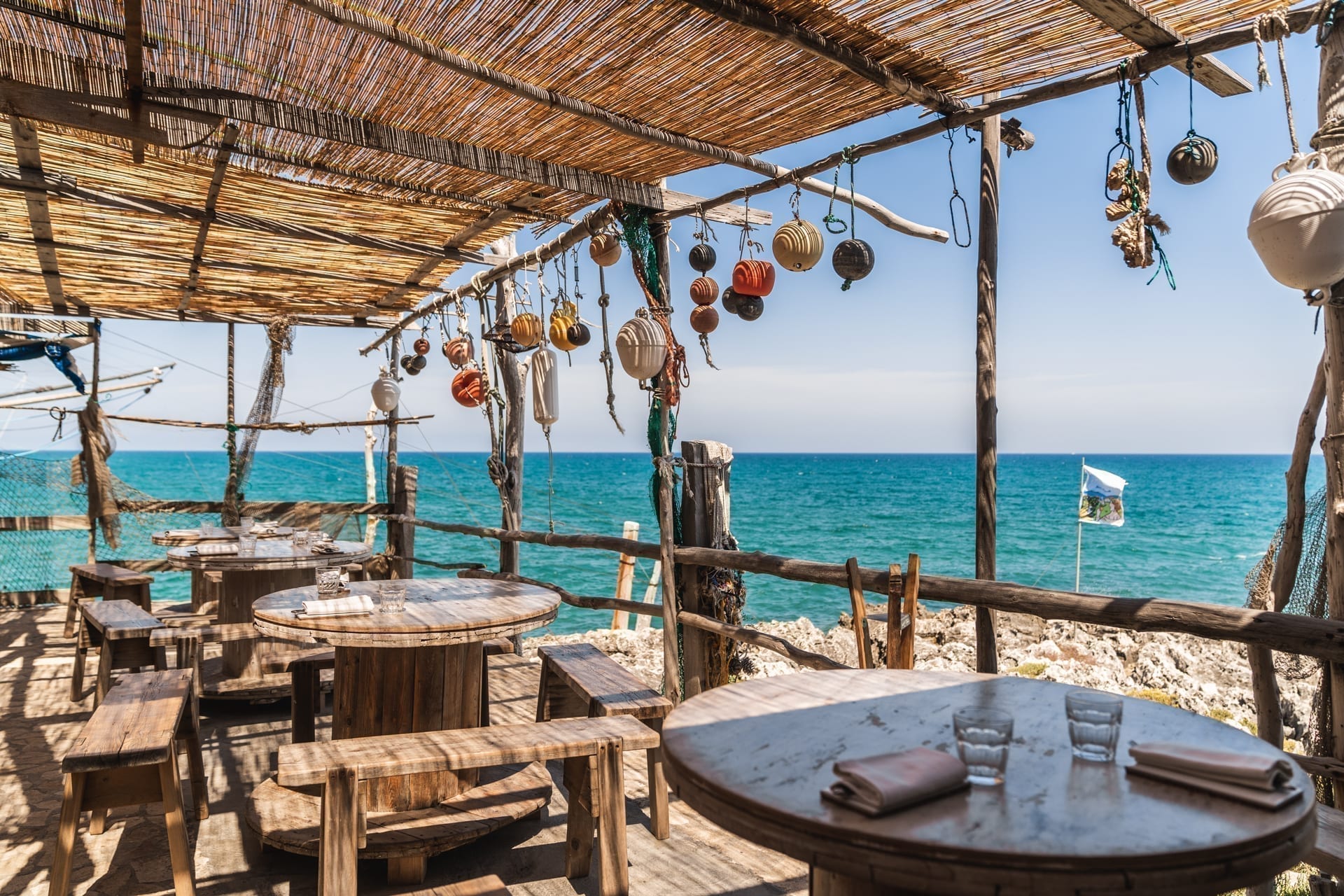 © Trabucco da Mimì
Leaving this enchanted place, we traveled the Gargano by car surrounded by centuries-old olive trees and a wonderful sun, to arrive at Masseria Moroseta by Carlo Lanzini in Ostuni, designed by Andrew Trotter.
A modern country house, an elegant yet familiar environment a place created for those seeking a peaceful atmosphere between nature, good food and beauty.
Here too we felt at home in a unique place having dinner at a common table with unknown and interesting people, tasted the delicious cuisine of Chef Giorgia Eugenia Goggi and her Team, we played with the Bulldog Angelina, had an aperitif with Carlo and Alessio (Managing director and administrator of the Masseria with Carlo) and seen some unique sunsets.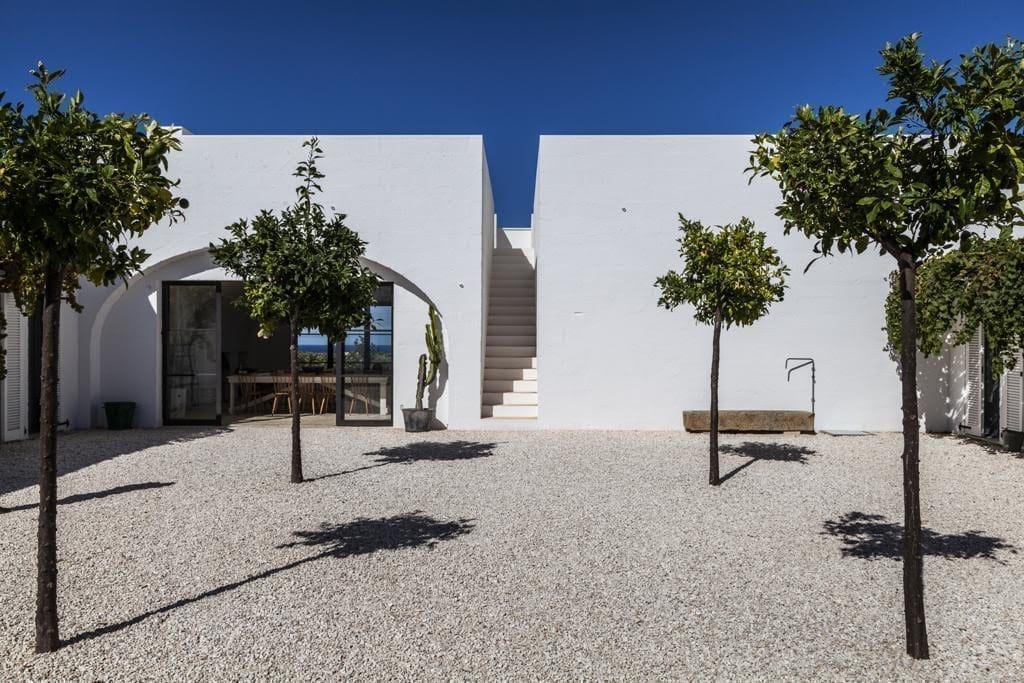 Masseria Moroseta © Enrico Costantini
We also managed to make a trip to Masseria Cultura in Noci in the Murgia, an artists' residence created by Jacques Leo and Fabrizia Franco. Fabrizia & Jacques are extremely sensitive to environmental, sustainable and ecological issues, also promoting a vegetarian diet at KM0 with the products that themselves grow in the big organic vegetables garden of the Masseria. The association proposes itself to the public as a new multifunctional cultural center in Southern Italy, within which its members can take advantage of artistic and educational workshops suitable for all ages.
We recommend a visit!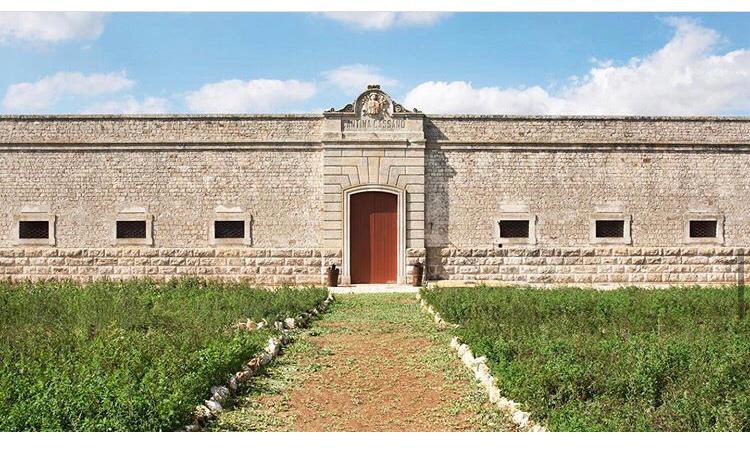 © Masseria Cultura
Finally, Friday morning we woke up to go down to the tip of Puglia, Gagliano del Capo, to experience Palazzo Daniele. A place that can be defined as "mystical".
"This house is not a Hotel"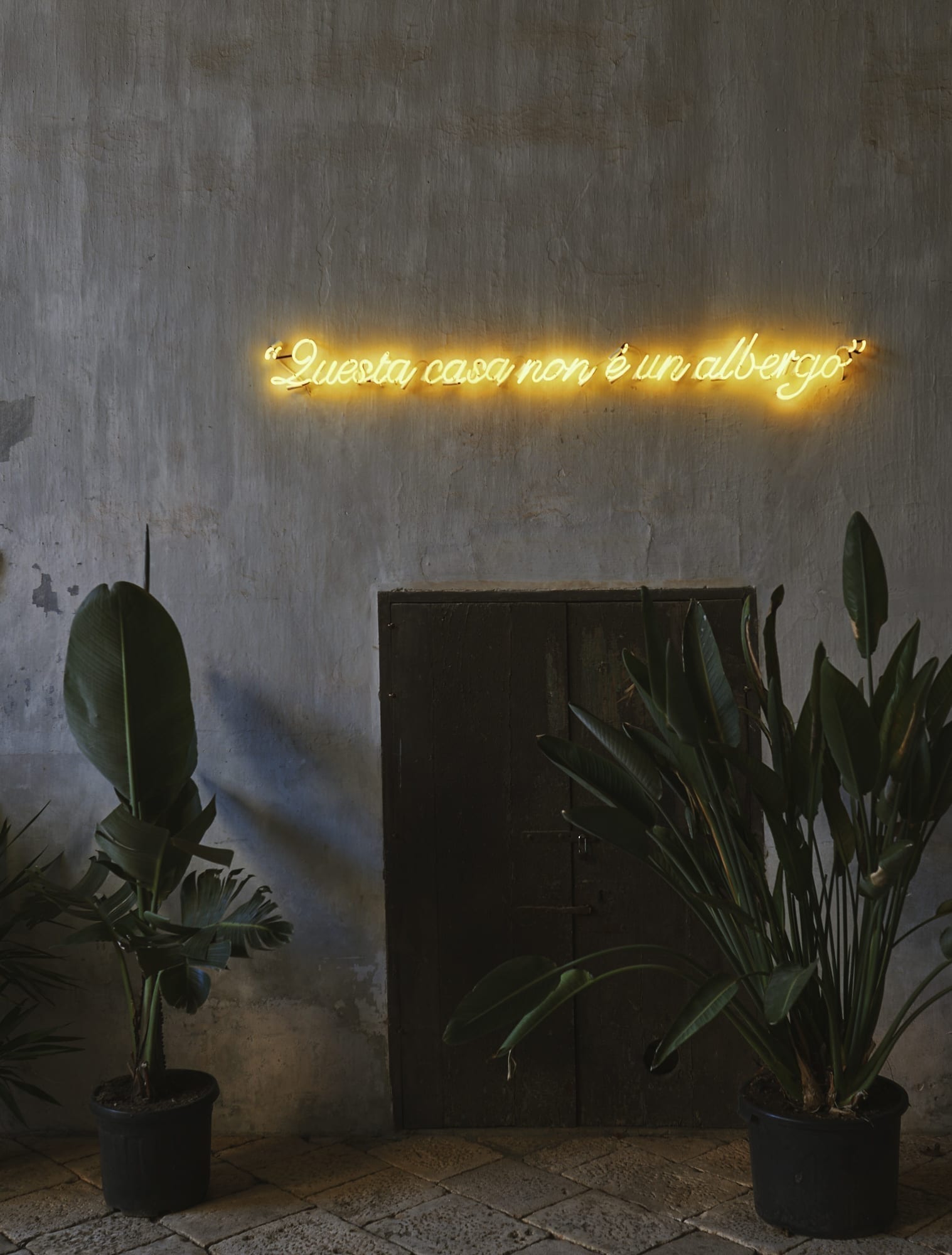 Palazzo Daniele © Enrico Costantini
From the moment you enter the Palace, you are greeted by the positive and hospitable energy of the staff:
Anna (Reception) and Maira (Resident Manager) were waiting for us and gave us a very interesting tour of the property: modernised by the Milanese duo Ludovica + Roberto Palomba, inspired by the idea of ​​absence, the Palazzo has been stripped as much as possible, restoring historical elements such as the decorated frescoes and mosaic flooring to create the space for a contemporary art collection around the property. The monastic furnishings and bare walls reinforce the ceilings with 19th-century frescoes. Each room has a different work of art. Ancient family portraits alternate with works of contemporary art.
Palazzo Daniele is part of the GS Collection created and owned by hotelier Gabriele Salini, a eighth generation Roman and lifelong art and design enthusiast. The collection consists also of a 10-suite G-Rough hotel in Rome. Both properties are the tangible embodiment of Gabriele's driving passion, merging together the very best of Italy's art, design, and gastronomy in an authentic, organic hospitality setting. Key to Gabriele's vision are the uniting principles of hyper-localism and sense of community, creating environments that fully immerse guests and offer them unparalleled access to local Italian life with all of its subtleties and indulgences.
Our Room was number 3, with a more unique than rare rain shower that falls from a 6 meter high ceiling in the center of the bathroom, into a large basin designed by Andrea Sala.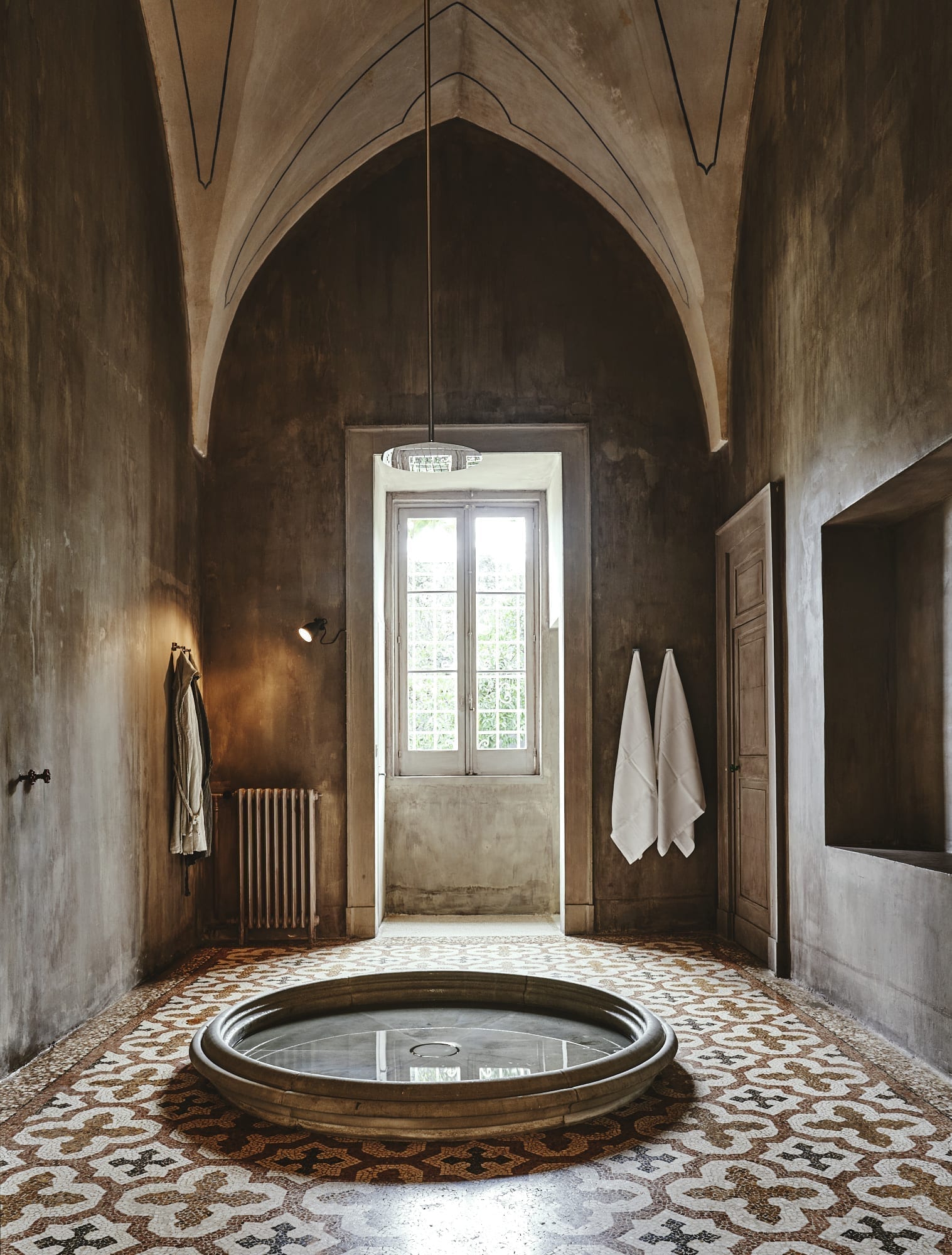 Room 3 © Enrico Costantini
We met Maira at 7:30 pm for an aperitif, where we met also the owner of Palazzo Daniele, Francesco Petrucci, the last descendant of the Daniele family, and the incredible Chef Donata.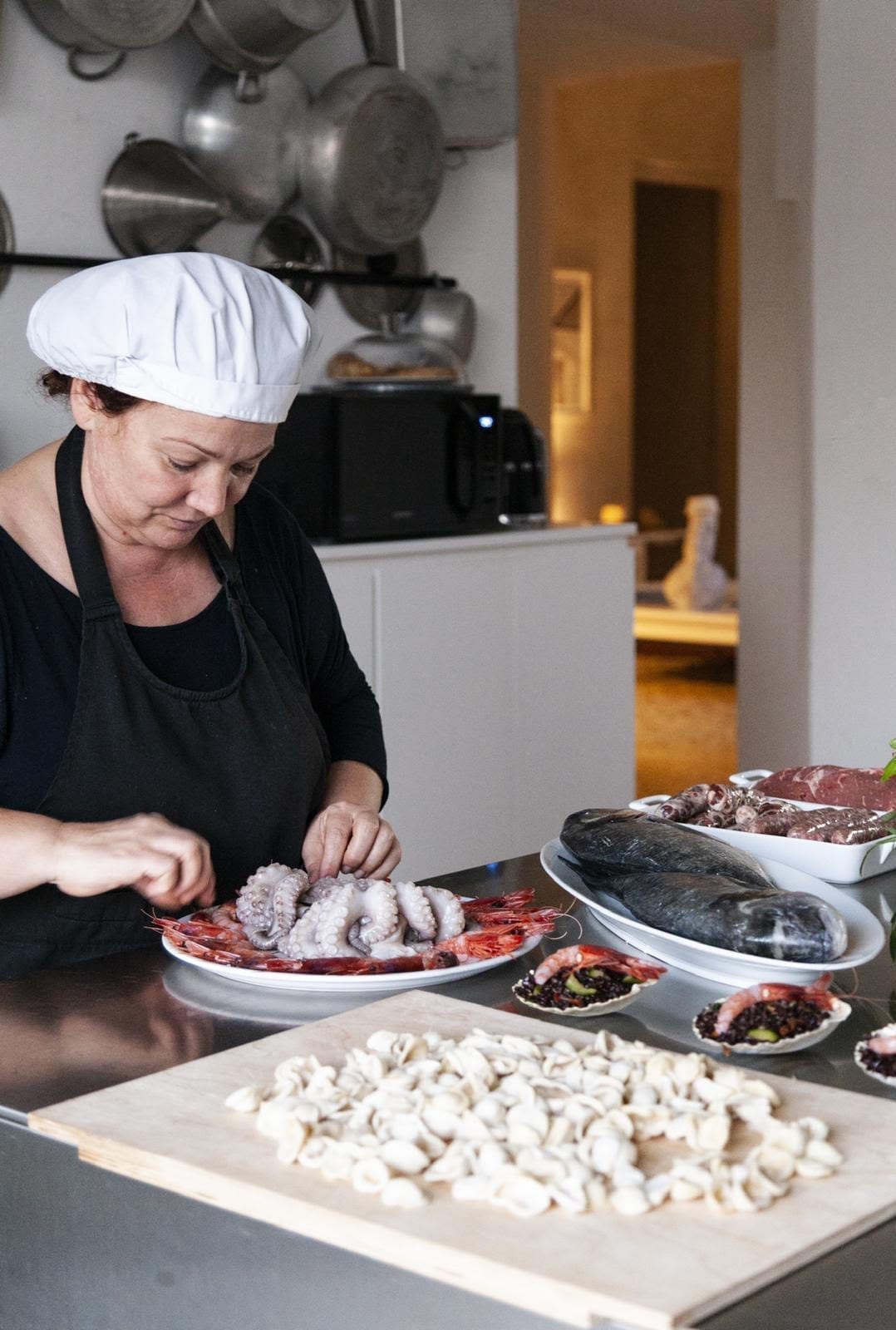 Chef Donata © Enrico Costantini
You fall in love with her from the first second you hear her talk about her work, which she carries out with extreme passion, creating tasty dishes typical of the Apulian cuisine.
We tried a delicious white wine recommended by Maira called "Taersia" from Cantine Duca Carlo Guarini, made from negroamaro grapes and then sat at a beautiful table lit by a designer lamp, in a room with a fireplace lit and pleasant soft music. Some of the tasty dishes typical of local cuisine made by Donata were orecchiette, parmigiana, broad beans and chicory, excellent fish and desserts. All served by the very kind and professional Christian (Maitre).
The following morning, breakfast was prepared by the kind Chef Patrizia, delicious pies and homemade desserts, yogurts and milk from La Lattoria , all to be enjoyed at a poolside table with the chirping of swallows.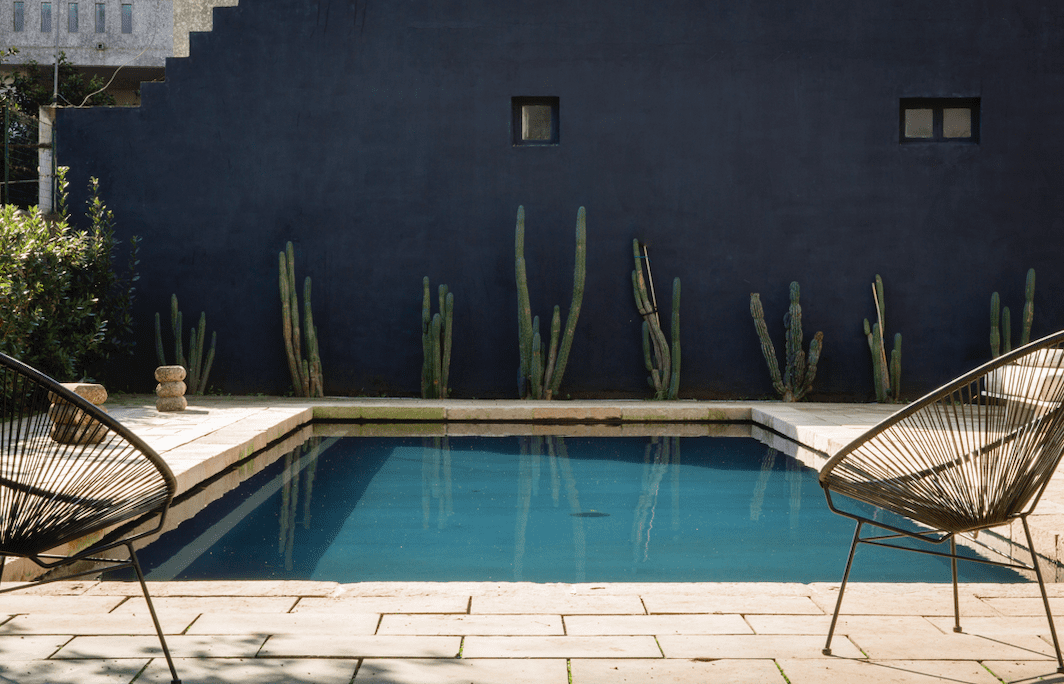 Swimming Pool © Palazzo Daniele
After such a sweet and homemade awakening, Sonia arrived, with her energy and desire to show you the town of Gagliano del Capo. She accompanied us to Forno Bisanti where we had the opportunity to taste (and buy) everything.. from the delicious taralli with onion to freshly baked biscuits.
A family business that is happy to show you the passion with which they wake up every day early in the morning to start making bread.
After that, we did a tour of the local market and then we decided to dip in the sea of the "Maldives of Salento", in Pescoluse. The water is so crystal clear that it feels like you are in the Caribbean or Maldives. What more could you want?
It's not over.. the last evening at Palazzo Daniele we spent it with Donata in the kitchen, who told us about her cooking classes at the Palazzo, the recipe for her exquisite pizza and let us taste some delicious Spaghetti with yellow tomato. (Just because we asked her to eat little otherwise she would have cooked us everything and more..!) An extraordinary person who loves her job and will make you feel at home.
The dinner was served in candlelight, next to a gentle lit fire.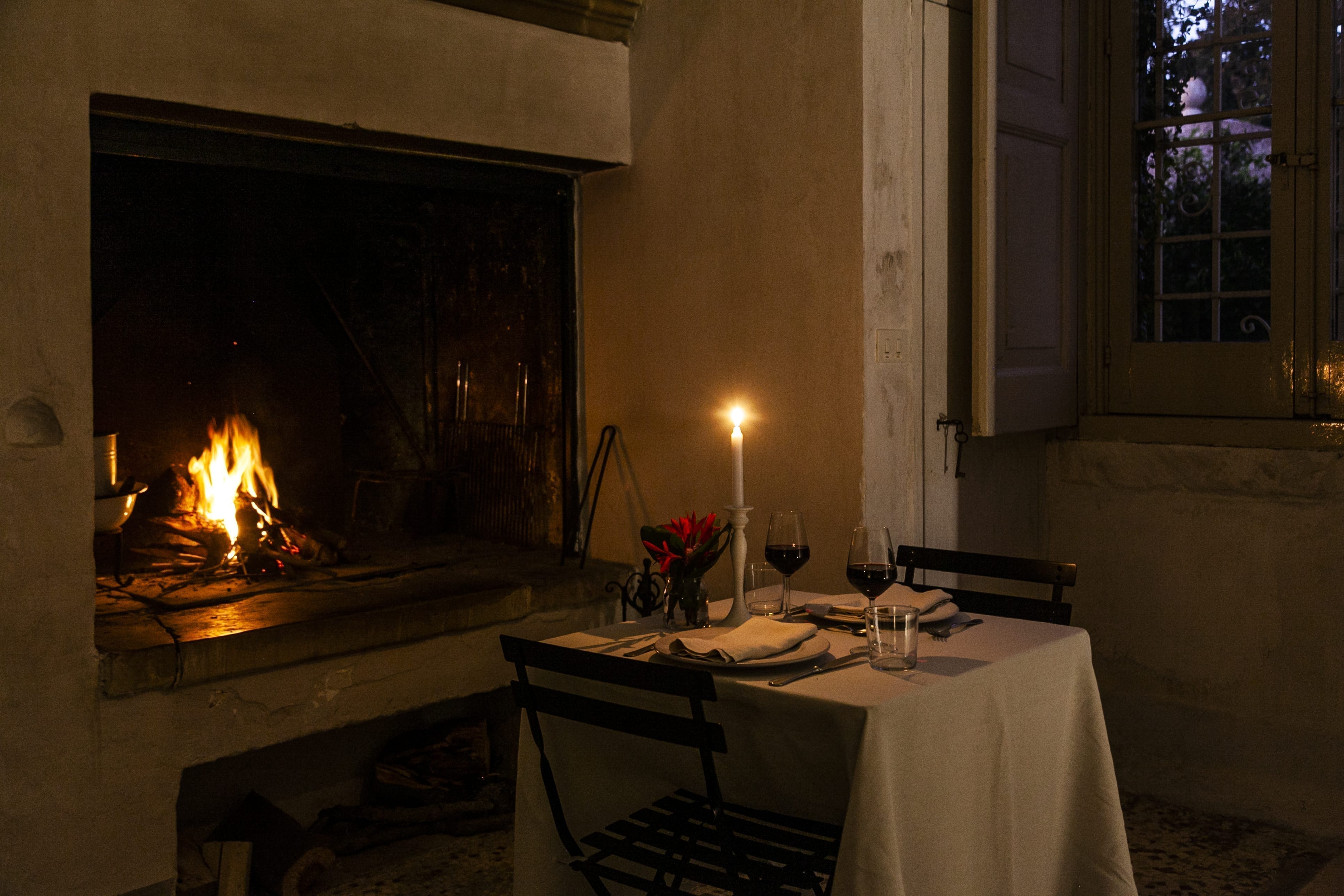 Dinner © Enrico Costantini
A unique experience, highly recommended.
To view more of this retreat and to book your stay: Palazzo Daniele
Thanks Puglia! A region full of extraordinary people.
– Maria Elena Fabbrini –
To get inspired, visit our instagrams accounts. Click on:
Come Find Your Nest in Italy
May 9th, 2021  –  11:30 am