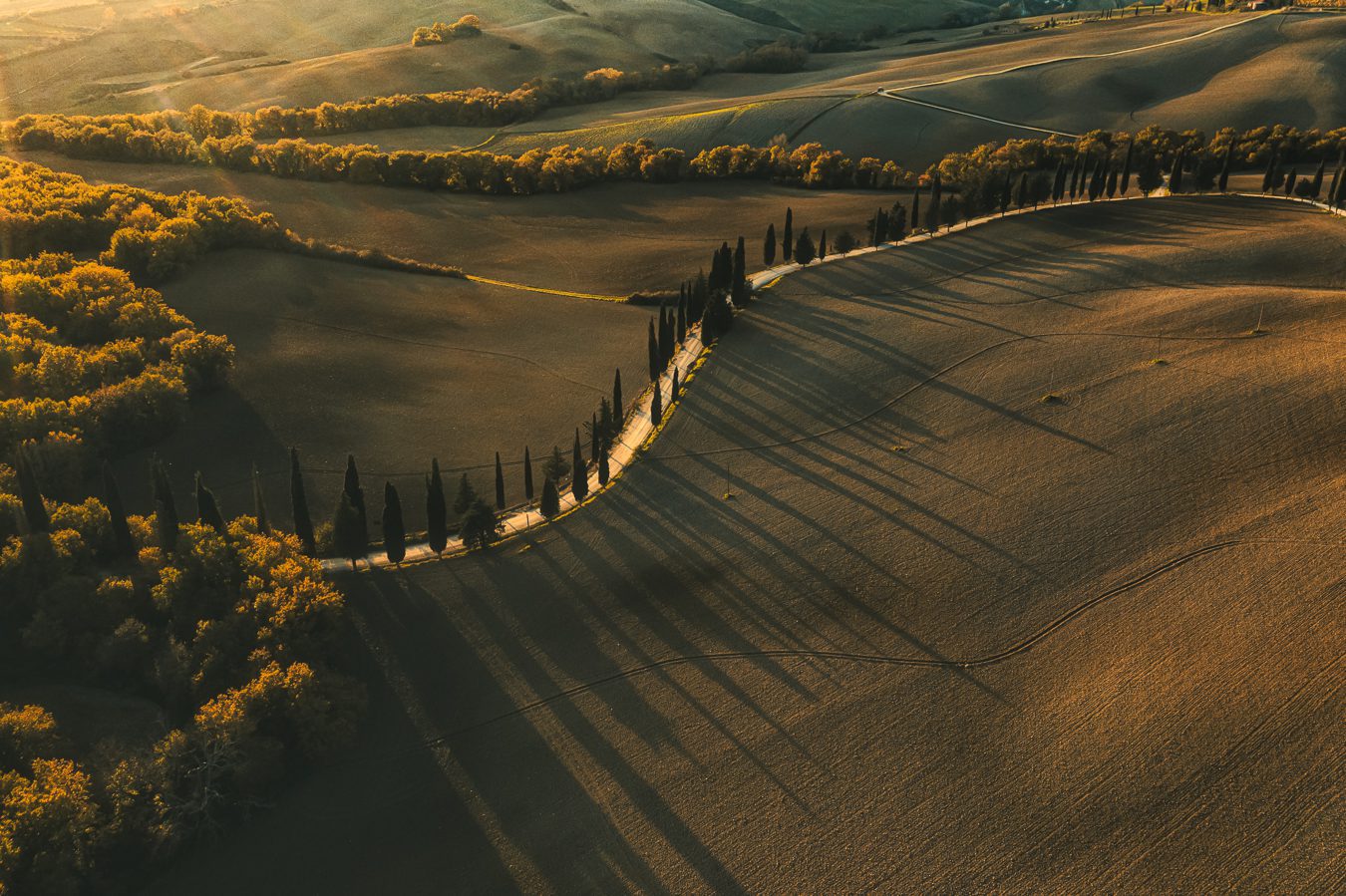 Tourism is resuming and Italy is slowly returning to its original pre-Covid splendor with business reopening and summer approaching. The top NEST's destinations of summer 2021 are Tuscany, Liguria, Puglia, Sicily and Umbria. What you may not know about our beautiful Mediterranean country is that is made up of twenty regions with unique and distinct characteristics. Each region has its own culinary treasures, culture and architecture.
There is one feature, however, that brings them all together: Nature. The Italian landscape is variable, from sandy white beaches to high peaks and everything in between.
Let's take a closer look to what they have to offer.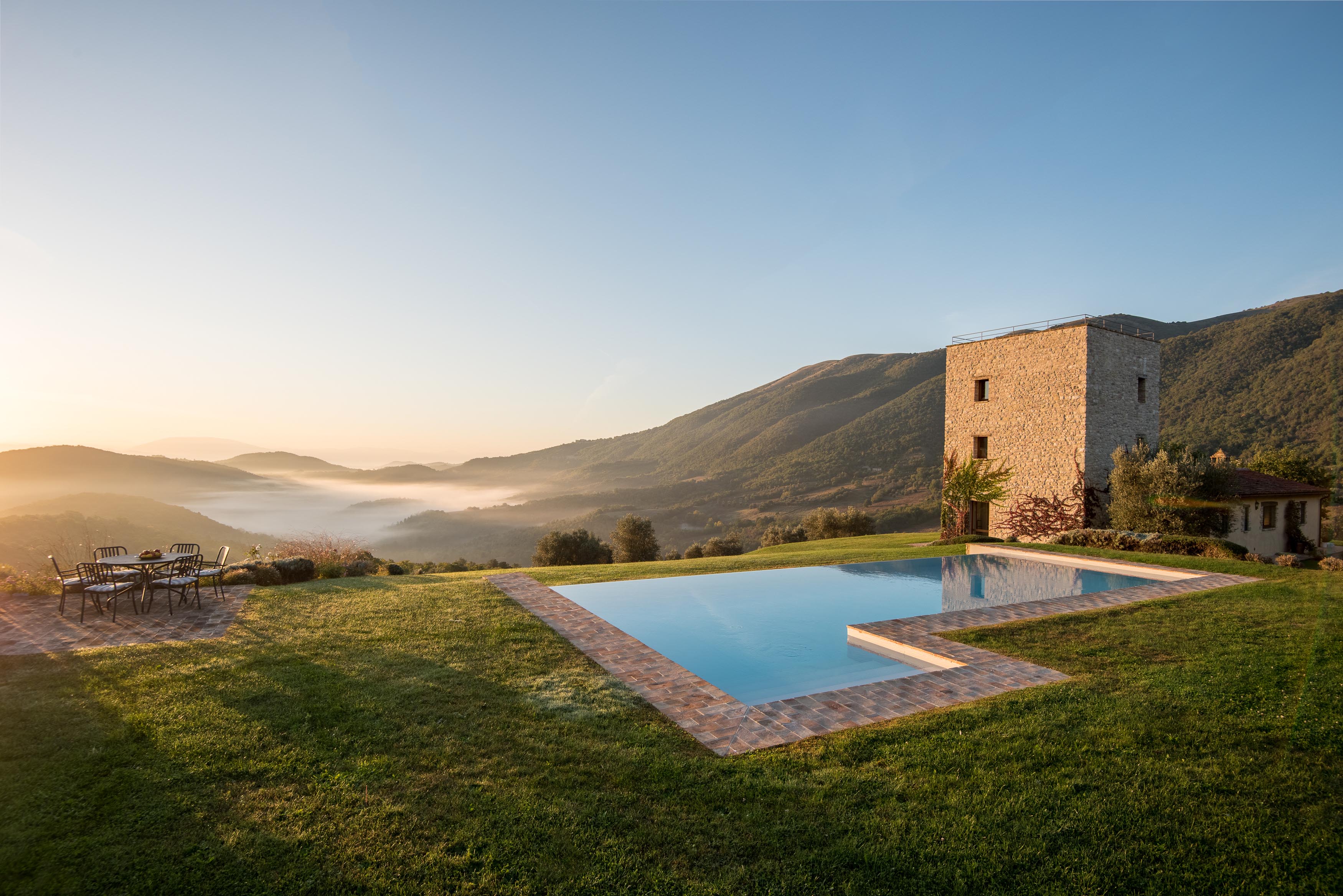 Villa Torre
Umbria is also known as the green heart of Italy, hills gentle hills covered with olive trees and vineyards as far as eyes can see. Home of Lake Trasimeno and Cascate della Marmora, its natural landscapes never fail to amaze. To fully experience the beauty that is Umbria you can stay at Villa La Torre.
Torre is a stunning villa rebuilt on the ruins of a medieval defensive tower in an Umbrian Estate. It is almost impossible to find a view as enthralling as the wooded valley below Torre. The gorgeous infinity pool of the Villa and the spectacular roof terrace offer stunning panoramic views that will remain engraved on your memory.
Known for its awe-inspiring mountains and sprawling natural landscapes, the Estate and this Retreat are the perfect place where you can immerse yourself in the sounds and silence of thousands of hectares of natural reserve, where there are no eye sores and the landscape has remained unchanged for centuries.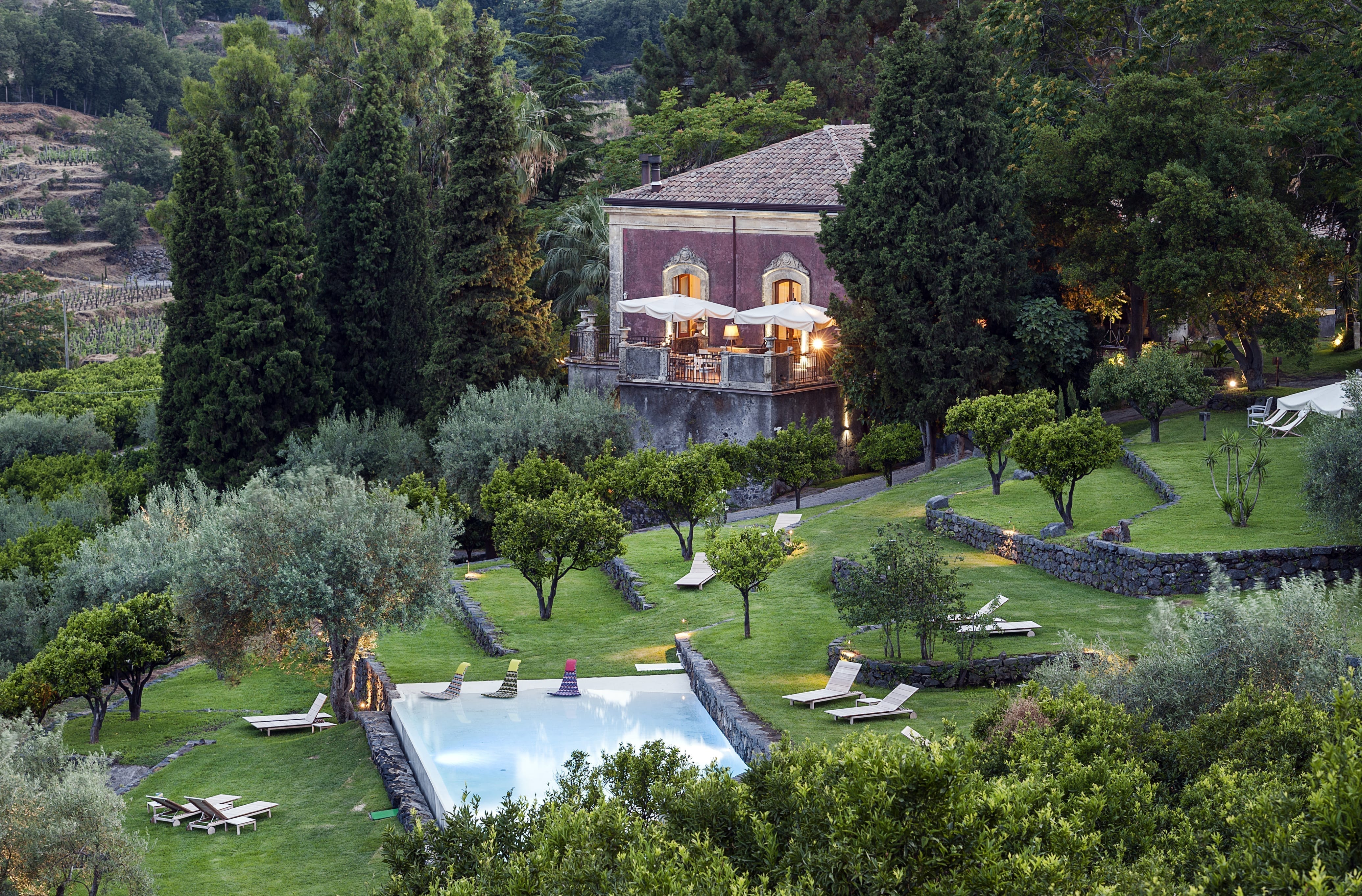 Country Boutique Hotel & Villas
The largest island in the Mediterranean sea, Sicily has one of richest and most unique cultures. From folk art to trekking itineraries in natural parks, from astonishing beaches to archeological sites, the island features a perfect blend of food, art and landscapes.
As Frederick II, King of Sicily, once said: "I don't envy God's paradise, because I'm well satisfied to live in Sicily".
The Sicilian countryside is one of the most distinct and appreciated: build between the Mediterranean sea and the Mount Etna you can find this gem. This property has been built with the features of a unique Country Boutique Hotel with design elements. It has several rooms and suites, some in the main building – a noble dwelling of the 18th century – and others scattered around our organic farm. It is surrounded by a Sicilian estate at the slopes of Mt. Etna, the biggest active volcano of Europe. It has the soul of a discreet and unpretentious hideaway, far from the hurly burly of urban life, in a place of special energy.
The noble dwelling dates back to 18th century and is listed among historic buildings. In the process of restoring the buildings, the principles of Bio-architecture have been applied and part of the energy supply comes from renewable resources.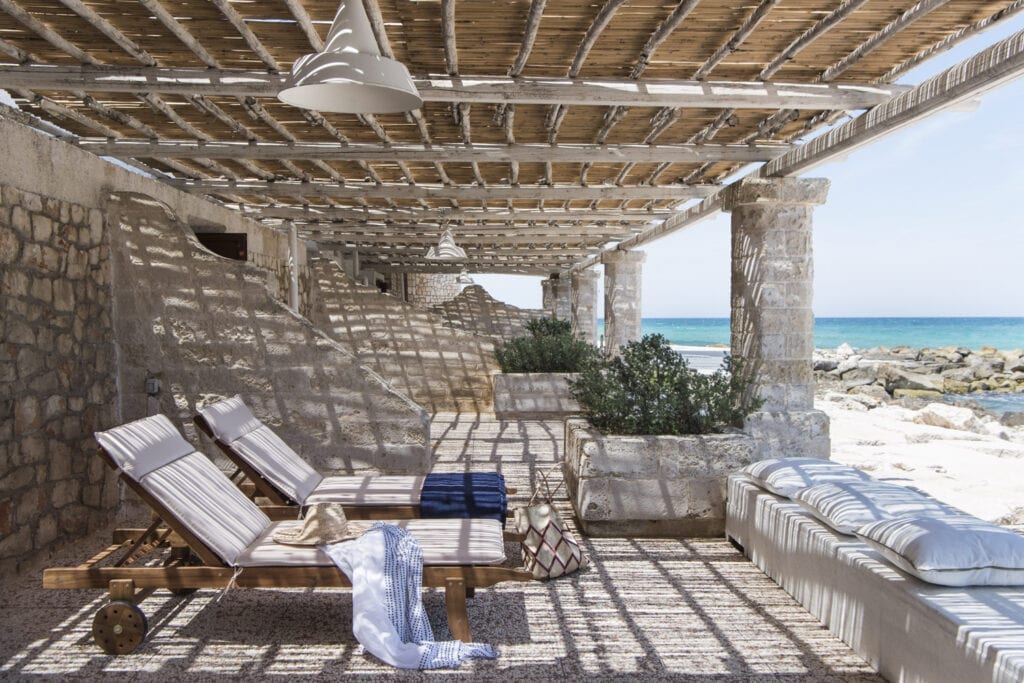 Beach Boutique Hotel 
Let's now take a closer look at this Resort in Puglia, a short walk away from the turquoise waters of the Adriatic. If you are in need of the healing properties of the sea and the calming sound of waves, this is the place to be.
The peace and colours are hypnotic, blue sea, sky and pools, and warm pink of a summer evening captured in the hue of a stone, the ideal location if you want to fall asleep to the hush of the waves rippling over the rocks beneath your room.
An ineffably discreet design, where the renowned restaurant is seemingly encased in glass for uninterrupted sea views, and the wood dining terrace is shaded with a sweep of white canvas sails. Contemplate the calm blue scene, and prepare to dine like a nobleman on sophisticated Apulian cuisine prepared with the soul of generosity.
Puglia is the heel of Italy and it is said to be Italy's newest hotspot. The source of its popularity is resides in its culinary delights, incredible sea-facing locations and historical value of its towns.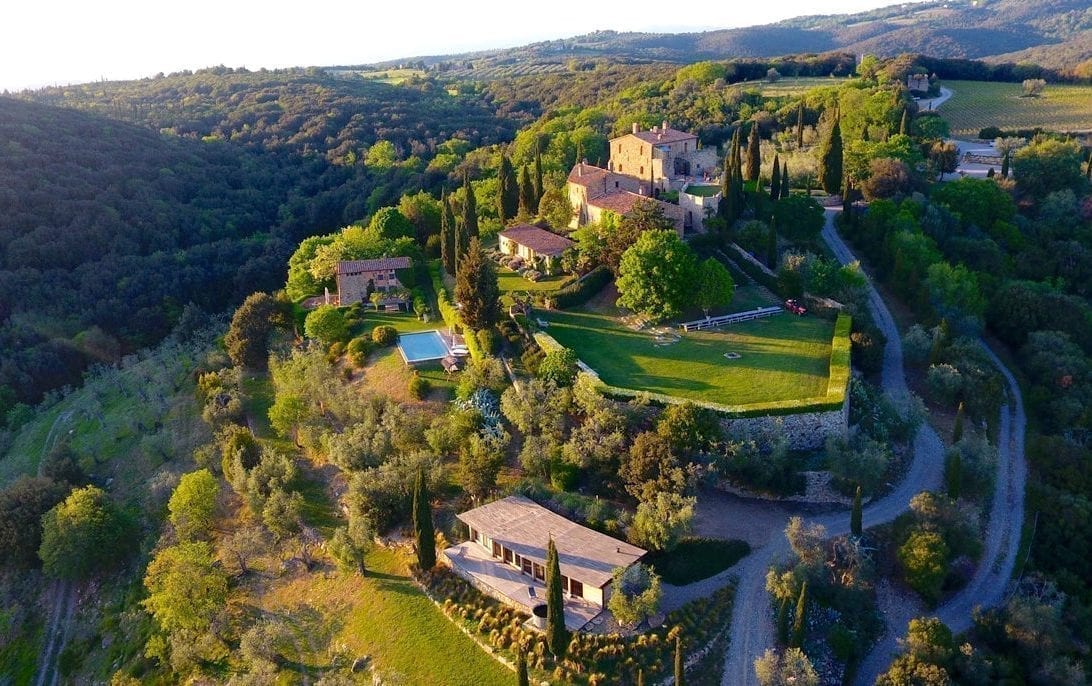 Castle Boutique Hotel in Maremma
If you already got a glimpse of this 12th century luxury castle nestled in the untouched region of Maremma, you probably want to know more. Maremma is an ancient region, the sea and white beaches blend together with pine groves and green hills creating a beautiful sun-bleached scenery. If you want to experience Maremma surrounded by privacy, nature and luxury benefits but in the same time also feeling at home, then this Castle is the right place for you. Thoughtful and personalised service attracts discerning travellers looking for an authentic Tuscan experience.
The castle also offers a choice of creatively appointed suites full of privacy, two swimming pools, two kitchen gardens and exquisite terraces surrounded by 40 hectares of vineyards and olive groves. Here you can learn how to cook traditional Tuscan recipes, go truffle hunting, do a leather workshop, go horse riding and harvest olives and grapes.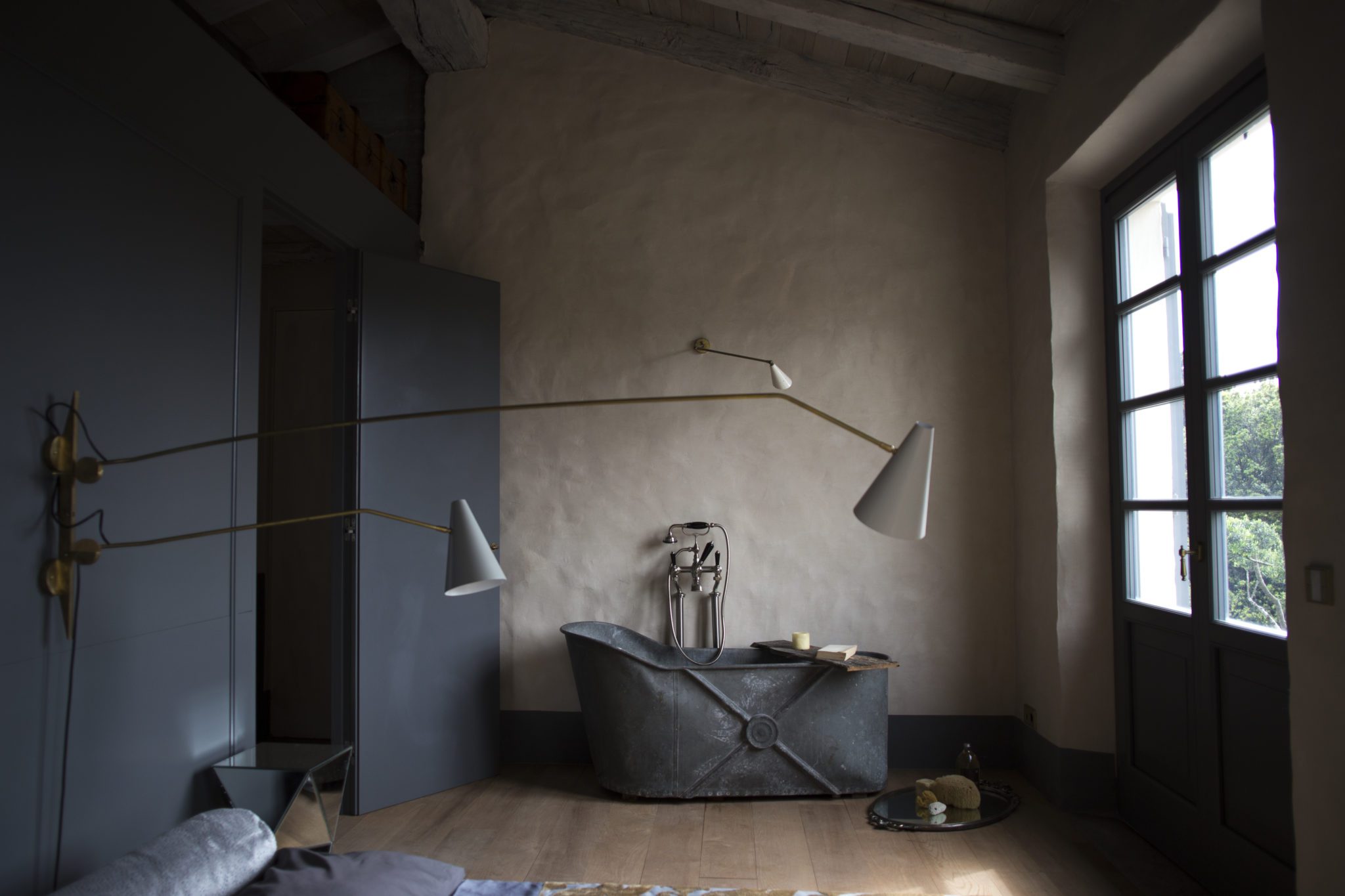 Slow Guest House
Last but not least, the region famous for Cinque Terre and the birthplace of pesto: Liguria. In between the Ligurian sea and the Apennine Mountains the region may be small but it's dense with treasures. Typical are the pastel colour houses built on the cliffs and adorned with flowers and lemon trees, charming steep villages and cute fishing marinas. Inland you can find this heavenly bed & breakfast immersed in a grove of oaks and evergreen trees, adorned with lush Mediterranean hedges.
The building is perched on top of a hill, the Ligurian microclimate and the protection of its ancient walls offer guests a relaxing stay with a magical and charming atmosphere. Three rooms tastefully furnished. A design and architecture dream.
To learn more and to book your stay::
Come Find Your Nest in Italy
 17th June, 2021  –  11:30 am